Aventura, FL – October 13-14, 2018
October 13, 2018

to

October 14, 2018


This course includes a home study component ($225 value) that serves as a prerequisite to the live activity. To review the full activity description of the home study component click here. To access your home study, click on the Register tab above, choose the specific location & date that you are enrolled in and then click the "Take Course" button in the Course Summary box on the "Overview" tab.

Living with chronic pain is a prevalent reality for many people, both young and old. Among those suffering, there is substantial evidence indicating that many remain inadequately treated with common commercial pharmaceutical remedies that may be unsuitable for the individual patient's needs. This may include improper dosage form, inappropriate dosage strength, unsuitable drug combinations, and the presence of irritating inactive ingredients, among much more. In addition, some commercial pharmaco-solutions are associated with a range of adverse reactions, including gastrointestinal erosions, constipation, central nervous system depression, addiction, and tolerance. Although commercial products help reduce pain for the average person, they may not be suitable for all.  Moreover, given the complexity and unique experience of each individual's pain, personalized treatment options are becoming increasingly warranted. With healthcare moving towards a more personalized approach and with advancements being made in pharmaceutical customization, patients can now be prescribed medications that are tailored to their own unique needs and pain experience. Taking advantage of the numerous customization options available today including dosage strength adjustments, alternate dosage form selection (e.g., topical creams, gels, or sprays; rapid dissolve tablets), low dose combination therapy among more,  painful conditions can be managed in a fashion oriented to the individual needs of each patient.
In this activity, participants will be given the opportunity to enhance their competencies in customized analgesic pharmacotherapy through interactive discussions and case studies that cover complex pain-related conditions, including:
Piriformis Syndrome
Low Back Pain
Laser Scar Removal
Pediatric Tonsilectomy
Headaches

Complex Regional Pain Syndrome
Phantom Limb Pain
Diabetic Neuropathy
Addiction
Using uniquely designed patient assessment tools, participants will be asked to critically and creatively develop personalized solutions that adhere to the prescription and patient-profile. This will include tasks, such as selecting the appropriate delivery system and inactive ingredients that are well-received and well-tolerated by a given patient. During this process, participants will learn how to relate drug mechanisms of action to physiological and pathophysiological pathways responsible for the elicitation of a pain response. Through collaborative efforts between physicians, pharmacists, naturopathic doctors, and other healthcare professionals in the field, participants will gain valuable insights into the parameters involved in devising a personalized treatment regimen.

Promotional Video:
---

Testimonials:

This was one of the best courses I have ever attended. The interaction between facilitators and participants, especially physician to physician, was excellent and really improved the value of the learning experience. The networking opportunities between colleagues was also appreciated.

Paul Gibbons
Pharmacist, British Columbia

 

It was great to come with a pharmacist from my local area – thus, when I return to my practice I have someone who is willing, able, and knowledgeable to work with me in compounding options for my patients. This program will impact my practice by expanding my options to better treat my patients with complex care needs and the potential to reduce side effect profiles.

Susan Batten
Physician, Ontario

 

The layout of the program is phenomenal! Having the first day focus on the physiology and pharmacology was a great foundation. The cases that followed were challenging but really promoted the collaboration between disciplines to generate positive outcomes. Working together on patient cases with my prescriber showed us both that having multiple viewpoints on the same case will lead to better outcomes. Talking out the case and throwing around ideas gave us both new perspectives in many areas. I will be returning to work with a greater comfort level in recommending targeted therapy for personalized medication rather than focusing on preprinted order forms.

Kristen Watt
Pharmacist, Ontario
---
Learning Objectives
Employ customized and personalized principles of analgesic therapy.
Identify and develop novel targeting approaches to physiological and pathophysiological pain pathways, including the treatment of nociception, neuropathy, neuromas, centralization, sensitization, consequences of vascular deprivation, neural budding, and plasticity among more.
Interpret deleterious signal elicitation and subsequent excitation, inhibition, cessation, and modulation through analgesic therapy.
Examine the challenges associated with current first-line treatments for pain, including improper of ineffective dosage strength and form, presence of irritating inactive ingredients, adverse side effects, tolerance, and addiction.
Assess the benefits and challenges of various routes of administration, delivery systems, dosage forms, and dispensing mechanisms used in analgesic therapy.
Applying principles of targeted analgesic therapy, develop personalized and alternative treatment regimens for complex pain conditions, including myofascial pain syndrome, headaches, perioperative pain management, complex regional pain syndrome (CRPS), phantom limb pain, low back pain, diabetic neuropathy, and addiction.
Review comprehensive patient assessment chart data, including prior medical history, familial history, differential diagnoses, lifestyle behaviors, signs and symptoms, laboratory test results, analgesic-related medication, and adjunct pharmacotherapeutic and supplementation treatments.
---
FINANCIAL SUPPORT:

An unrestricted educational grant has been provided by MEDISCA Inc.
---
COPYRIGHT:

The live activity workbook is copyright © 2016 LP3 Network.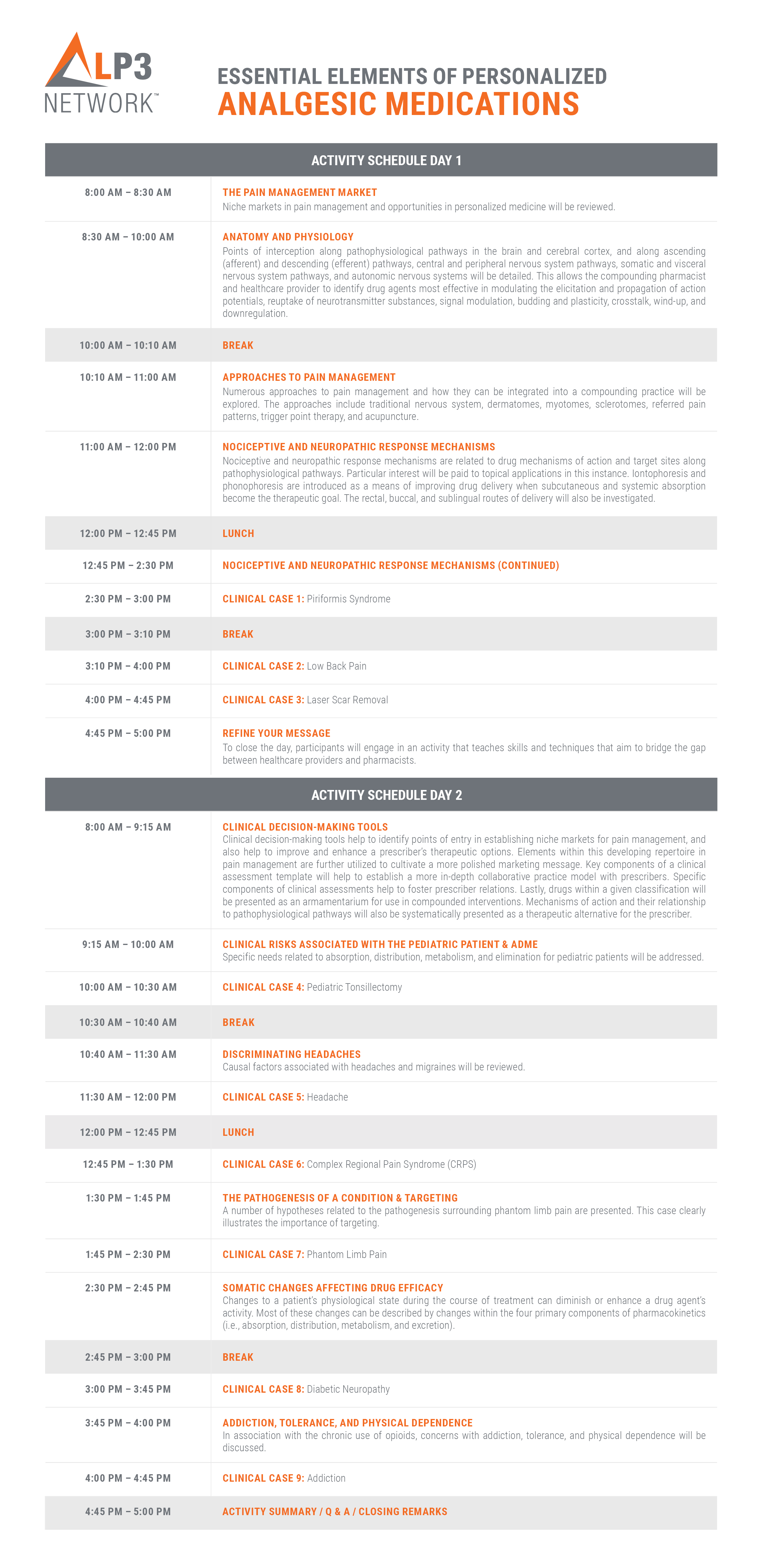 Travel information
Venue information:

The training will take place at our state-of-the-art Learning Center.
Driving/Parking Instructions: If you are planning to drive in directly to the facility, please use the map/directions link provided below. Limited free parking is available at our training facility* and the preferred hotel accommodation, which is conveniently located next door to the facility.
*Please note, in order to park at our training facility on Saturdays and Sundays, you must press the intercom button at the parking garage gate and mention that you are attending a training with LP3 Network; easiest access to the facility (Suite 300) is through the parking garage on the 4th floor.
LP3 Network Facility
21550 Biscayne Blvd
Suite 300
United States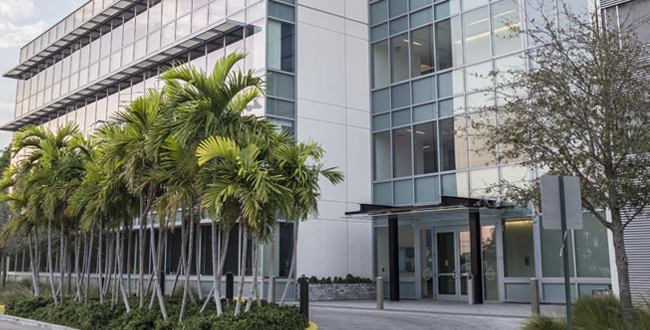 Hotel information:

The preferred hotel accommodation is the Hampton Inn Hallandale Beach Aventura.
Please mention LP3 Network when booking to get our special group rate† of $119/night for a King room or $129/night for a double room (please check your registration email for the corporate rate code).
†Payment for hotel accommodations is at the expense of the activity participant. Rates are based on standard room accommodations and subject to availability and tax, currently at 12%.  Should the preferred rate not be available, the best available house rate will prevail.
For reservations, please call 1-888-871-3430 or to book online, click here.
Hotel Location:
Hampton Inn Hallandale Beach Aventura
1000 South Federal Highway
Hallandale Beach
,
FL
33009
United States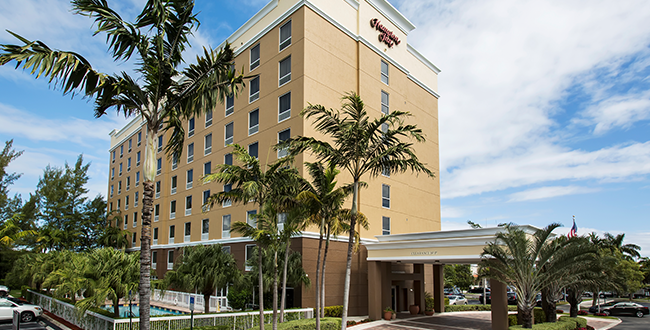 MIGUEL DE LA GARZA, MD, DABA, DAPM
Diplomate, American Board of Anesthesiology; Diplomate, American Board of Pain Medicine; Facilitator, LP3 Network
Disclosure: None
Dr. de la Garza is a board certified physician who practices multidisciplinary interventional pain management in four offices in the Tampa Bay area. He performs interventional pain procedures, specializing in minimally invasive surgical decompression of herniated discs and spinal stenosis, implantable intrathecal pumps, spinal cord stimulation, and peripheral nerve stimulation. Dr. de la Garza has published numerous research papers and abstracts, and has presented at regional and national academic conferences on the topics of anesthesia and pain medicine. He is also a consultant for numerous pharmaceutical and medical device manufacturers.
Dr. de la Garza received a Bachelor of Science in Molecular Biology and a Bachelor of Arts in Chemistry from Texas Lutheran College in Seguin, Texas. He graduated from the University of Texas Southwestern Medical School in 2001 and performed his anesthesia residency at the University of South Florida College of Medicine, Department of Anesthesiology and Critical Care from 2001 to 2005. He then completed an interventional pain medicine fellowship at The Cleveland Clinic, in the Department of Anesthesia and Pain Management.
 
KEN SPEIDEL, BS Pharm, PharmD, RPh, FIACP, FACA

Facilitator, LP3 Network; Vice President, Compounding Compliance, Gates Healthcare Associates; Surveyor and Accreditation Expert, Accreditation Commission for Health Care (ACHC/PCAB); Fellow, International Academy of Compounding Pharmacists (IACP); Fellow, American College of Apothecaries (ACA); Professor of Pharmacy Practice (retired), University of Findlay.
Disclosure: Surveyor, Accreditation Commission for Health Care (ACHC/PCAB); Consultant, Gates Healthcare Associates.
Dr. Ken Speidel is recognized for his broad experience in pharmacy practice and education, including his national recognition as a pharmacotherapeutic specialist in endocrinology and pain management.  In addition, Dr. Speidel provides expert training in sterile and non-sterile compounding processes in the acute care, community, outpatient, and 503A/503B practice sectors.  He has been instrumental in the development of national standards for pharmacy compounding practices and provides consulting services to many organizations including boards of pharmacy as well as hospitals and health systems in the United States and abroad.
 In addition to his worldwide consulting and educational work, Dr. Speidel is a retired Professor of Pharmacy Practice from the University of Findlay. He has also assisted in the development and facilitation of many nationally recognized educational programs, approved by the Accreditation Council for Pharmacy Education (ACPE). Moreover, Dr. Speidel was an advisor for the development of the Pharmacy Compounding Accreditation Board (PCAB) and remains a surveyor and accreditation expert for PCAB/ACHC (Accreditation Commission for Health Care). Dr. Speidel has served as multi-term president of the National Home Infusion Association (NHIA) as well as president of the Hospice of Portage, a large hospice program in the United States.
 Dr. Speidel received a Bachelor of Science and Doctor of Pharmacy from Ohio Northern University and has completed postdoctoral training in nutritional support and functional medicine. He has been awarded Fellowship status with the International Academy of Compounding Pharmacists (IACP) as well as the American College of Apothecaries (ACA).
---
Editors
SHANNON BELLEVUE, BSc, MSc
Medical Editor Team Lead
Disclosure: None

 
Pharmacists
Total CPE Credits: 25 CPE Hours = 2.5 CEUs
Joint Providership Status (CPE Consultants, LLC / LP3 Network)
| | | |
| --- | --- | --- |
|   | HOME STUDY | LIVE ACTIVITY |
| TYPE | Knowledge-based | Practice-based |
| UAN | 0864-9999-18-042-H01-P | 0864-9999-18-043-L01-P |
| CREDITS | 9 CPE Hours = 0.9 CEUs | 16 CPE Hours = 1.6 CEUs |
| RELEASE DATE | April 20, 2018 | May 5, 2018 |
| EXPIRATION DATE | April 20, 2021 | May 5, 2021 |
COMPLETION REQUIREMENTS
1. Complete home study learning assessment with a score of 70% and submit a completed home study evaluation online.
2. Attend the live component in full and demonstrate satisfactory participation.
3. Submit a completed live activity evaluation online.
4. Participants registered in the United States can obtain a statement of completed credits on their NABP e-profile. Participants registered in Canada and elsewhere will receive a statement of completion by email.
| | |
| --- | --- |
| | CPE Consultants, LLC is accredited by the Accreditation Council for Pharmacy Education as a provider of continuing pharmacy education. |

Physicians
American Physicians: Physicians, on their own accord, may assess this activity for its educational value and learning experience in order to determine if this activity is appropriate for claiming AMA PRA Category 2 Credits™ under the American Medical Association (AMA) Physician's Recognition Award (PRA) and credit system.
Canadian Physicians: Physicians of the College of Family Physicians of Canada (CFPC) may be able to claim Mainpro-M2 credits for self-directed or non-CFPC-accredited learning activities (i.e., programs that are not Mainpro-M1 or Mainpro-C accredited).

Naturopathic Doctors
For members of the College of Naturopathic Physicians of British Columbia (CNPBC)
Live Activity: 10 Category F CE Hours
COMPLETION REQUIREMENTS
1. A maximum of 10 Category F CE Hours can be claimed every 2 years. Therefore, completion of home study is optional*. It is the participant's responsibility to contact LP3 Network to bypass online home study (required by default).
2. Attend the live activity in full and demonstrate satisfactory participation.
3. Submit a completed live activity evaluation online.
4. When completed/approved, participants will be sent an email to access their Contact Hours certificate online. It is the participant's responsibility to submit the certificate through CNPBC's Registrant Online Self-Service system to report CE hours.
*Additional CE hours accrued from live activity of from home study (if completed) can be applied to other continuing education categories, as appropriate



Other provincial and international participants should verify with their respective governing board for accreditation equivalency. 
Looking for hands-on compounding time?
| | |
| --- | --- |
| | Register for our Analgesic Compounding Lab, which takes place on Friday, prior to the 2-day seminar. Participants will learn how to optimize the efficiency and quality of their compounding process by practicing novel compounding techniques and implementing innovative technologies and equipment. |
---
CANCELLATION AND REFUND POLICY:

A written request must be sent to LP3 Network requesting "Cancellation without Transfer" to an alternate live activity date. If cancellation occurs at greater than or equal to 31 days from the live activity date, then the registrant will receive a 75% refund; 15-30 days a 50% refund; and less than or equal to 14 days no refund.
---
TRANSFER POLICY:
The transfer policy is only in effect if requested greater than or equal to 14 days prior to the original live activity date. Failure to submit the "Transfer Request" at least 14 days prior to the original live activity date will default to the "Cancellation and Refund Policy". The transfer policy can only be applied one (1) time. Transfer to a new live activity date must be within the current calendar year. Failure to attend the new live activity will result in no refund and will no longer be transferable. Confirmation of the new activity date is subject to approval by LP3 Network based on the number of available seats within the selected live activity. There are no refunds, returns, or transfers upon purchase of the home study.
---