The Business of Pharmacy – Taking You From Pharmacist to CEO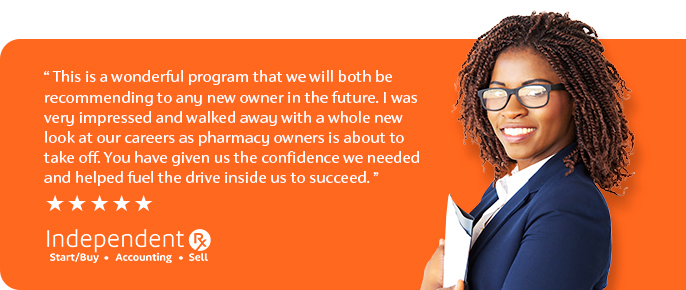 Brought to you by Independent R
x

 in partnership with LP3 Network
OVERVIEW
Part of providing the highest quality of care to your patients involves operating your pharmacy as an efficient, profitable, and adaptable business. The business side of pharmacy, however, is often inadequately implemented due to insufficient course coverage and lower priority given in pharmacy degree programs, making business management a key unmet need among today's pharmacists. The Business of Pharmacy program aims to transform participants from a pharmacist to that of a successful pharmacy business owner. Hosted by 3 leading experts in the field of business pharmacy, this online program will help set participants up for success through dynamic narration accompanied with virtual presentation notes and deep dives into real-life business examples and 14 case scenarios.
This 13-part program takes the participant on a step-wise journey through all essential aspects of pharmacy ownership from monetary aspects (accounts, profits, margins, payroll, sales/marketing, tax), inventory management, employee management, and human resources to identifying and solving operational inefficiencies to help optimally manage business and drive higher revenue and profits.
Understanding and controlling the business
The basics of accounting
Optimizing outlooks through accounting planning
Inventory & accounts receivable management
Fundamentals of marketing
Sales 101
Managing your employees
Human resources
Business entity types and tax implications
Third party audits
Controlling controlled substances
10 great habits
Case studies
Participants of this program will ultimately become empowered as business owners who can adapt to the inevitable and continuous evolution of the present day pharmacy and continue to thrive into the future ensuring business growth and superior patient care.
Questions? Join one of our live Q&A Sessions!
All participants will have the opportunity to join a live Q&A session featuring a representative from Independent Rx. We will share registration details via email for those enrolled in the program.
---
Sneak Peek – Introduction to the 3 Ps With Mark Bondurant
Click below to access the Sneak Peek page with a free preview featuring Mark BonDurant, Independent Rx's Chief Consultant, where he provides a great overview of the Business of Pharmacy and introduces you to "The Three Ps"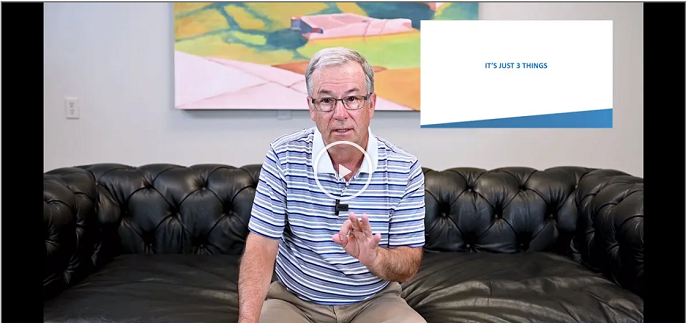 ---
TESTIMONIAL
"This is a wonderful program that we will both be recommending to any new owner in the future. I was very impressed and walked away with a whole new look as our careers as pharmacy owners is about to take off. You have given us the confidence we needed and helped fuel the drive inside us to succeed."
Intended audience
Pharmacy owners, pharmacists in charge, and daily operation managers looking for foundational support and tools to improve their pharmacy business operations.
---
Learning Objectives
Recognize the interplay between patients, purchasing, and the payroll and how they play key roles in the control and success of the pharmacy business.
Differentiate between the 3 main financial statements and their roles in financial planning.
Define the principles that underlie effective inventory control.
Explain the fundamental aspects that underpin the principles and strategies of marketing and sales of a business.
Recognize the optimal approaches to adopt for the hiring, training, and development of employees to ensure their success as well as that of the business.
Recall tax implications of business entity types and best approaches to protect the business from third party audits.
Identify best practices and procedures for regulating controlled substances.
Apply key learnings on monetary aspects, inventory, and employee/human resources of a pharmacy to help overcome business and management challenges in the real-world
Hardware/software requirements
Desktop Browsers

Google Chrome, Apple Safari, Mozilla Firefox, Internet Explorer 11, Microsoft Edge, and Opera
Mobile
Apple iPhones and iPads iOS 6+, Android phones and tablets 4.1+

Internet connection

Viewing videos at 360p requires 1.0 Megabit per second (Mbps)
Viewing videos at 480p (SD quality) requires 3.0 Mbps 
Viewing videos at 720p (HD quality) requires 5.0 Mbps

Hardware

Earbuds/headphones or built-in/external speakers
---
Copyright
This CE Activity is Copyright © 2021 Independent Rx Consulting.
---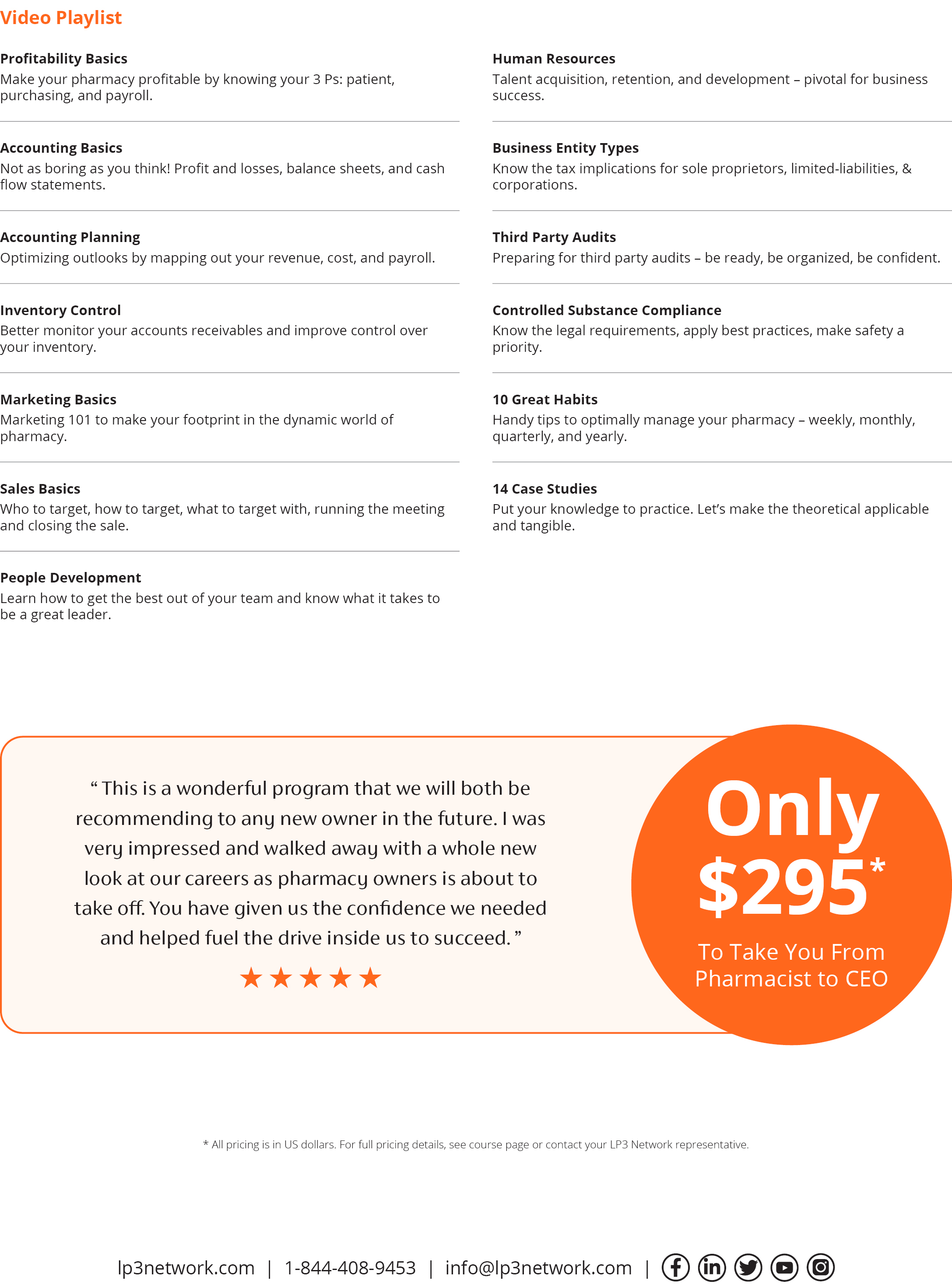 | | |
| --- | --- |
| OWEN BONDURANT | |
Owen is 2nd generation in the pharmacy business and has worked in independent pharmacies for a number of years. His pharmacy experience includes working as a pharmacy technician and starting, marketing, and running a durable medical equipment company. Owen graduated from Miami University of Ohio with a degree in marketing and a minor in management information systems (MIS). After graduating, he briefly worked for Western and Southern Financial Group before returning to the pharmacy industry where he started a medical equipment business. Owen subsequently moved to Chicago and worked as the Midwest sales team manager for a software company targeting major retail organizations. Later, Owen returned to the pharmacy industry as one of the founders and now President of Independent Rx, a consulting firm dedicated to supporting the buying/selling of pharmacies and increasing a pharmacy's profitability through full-line accounting services, data dashboard, and operational consulting.
| | |
| --- | --- |
| RICH DANHOF, CPA | |
Rich began his career in 1989 with the then big eight accounting firm of Coopers & Lybrand. He earned his CPA license and focused on the audit side but also had tax responsibilities for his client base. After five years and a broad range of experiences and clients, Rich made the move to big corporate. NCR Corporation was the new landing spot and there began a ten year succession of jobs from reporting and planning roles to CFO of an acquired software company to several years in the mergers and acquisitions group. A partnership in a personal financial planning business followed where Rich provided individual client-based experiences that led to his current position as CFO and partner in Clark's Pharmacy and Independent Rx. Over the last 10 years, Rich has operated and provided finance and accounting expertise to pharmacies and these experiences are now being used to help entrepreneurs start, acquire and operate their own pharmacies.
| | |
| --- | --- |
| MARK BONDURANT, RPh | |
Mark is a graduate of Ohio Northern College of Pharmacy and is celebrating his 43rd year as a pharmacist. In his forty years with Clark's Pharmacy in Dayton, Ohio he has experienced many roles including staff pharmacist, manager, supervisor, and chief operating officer, as well as the occasional need to fill in as a technician or delivery driver. For the last twenty years, he has been a partner in the business and has overseen operations while growing from three to sixteen stores and managing over two hundred employees. As COO, he was involved in over forty transactions of starting, buying, or selling a store and during his tenure as chief consultant at Independent Rx, he has conducted over one hundred more.
Pharmacists
This CE Activity is accredited for Pharmacists by the Accreditation Council for Pharmacy Education (ACPE) through CPE Consultants, LLC.
Total CPE Credits: 9 CPE Hours = 0.9 CEUs
| | |
| --- | --- |
| Type | Application-based |
| UAN | 0864-9999-21-057-H04-P |
| Credits | 9 CPE Hours = 0.9 CEUs |
| Release Date | November 1st, 2021 |
| Expiration Date | November 1st, 2024 |
Completion Requirements
Complete the program by watching all the online playlist videos.
Complete the learning assessment with a minimum passing score of 70%.
Submit a completed program evaluation online.
Please make sure to complete the program within 60 days of purchase.
When the aforementioned steps have been completed and approved:
Pharmacists registered in the United States will obtain a statement of completed credits on their NABP e-Profile within 60 days.
Pharmacists registered elsewhere will receive an automated email from LP3 Network advising that they can download a statement of participation.
All participants will receive an automated email from LP3 Network advising that they can download the LP3 Network certificate of completion.
| | |
| --- | --- |
| | CPE Consultants, LLC is accredited by the Accreditation Council for Pharmacy Education as a provider of continuing pharmacy education. |
International participants should verify with their respective governing board for accreditation equivalency.
---
Access to Program Materials
The Registrant has twelve (12) months from the date of purchase to initiate access to program materials by clicking on the "Take Course" button. Upon enrollment (i.e., clicking the "Take Course" button), the Registrant has sixty (60) days to complete all program requirements, after which access to the course and all course materials will expire.
---
ACCEPTANCE OF FAIR USE
By purchasing this CE Activity, the Registrant agrees to use the online material according to generally accepted principles of fair use, failing which, LP3 Network shall, in its sole discretion, have the right to remove any Registrant from the CE Activity.
---
Acceptance of Contact for Marketing Purposes
By purchasing this CE Activity, the Registrant agrees and understands that LP3 Network will share its name and contact information with IRx for marketing purposes.
---
CANCELLATION & REFUND POLICY
There are no refunds, returns, or transfers upon purchase of this CE Activity.