What's New in NAPRA's Non-sterile Draft?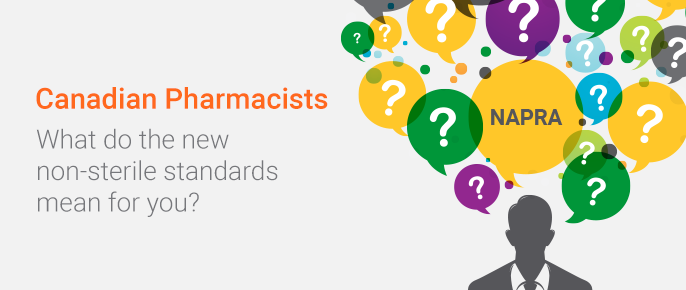 Please note that this is the on-demand version of the webinar.

The National Association of Pharmacy Regulatory Authorities (NAPRA) of Canada publishes Models of Standards for the compounding of sterile, non-sterile, hazardous, and non-hazardous preparations. These NAPRA standards represent the current and minimum requirements to be implemented by pharmacists compounding across Canada.
In this webinar, participants will review the key points addressed in the Models of Standards for Non-sterile Preparations (Draft 5b, 2016). Among the topics discussed are quality assurance and quality control (QA & QC, respectively, including SOPs, personnel training, equipment, facility requirements, procedure evaluation and end-product verification), beyond-use dating, and hazardous drug handling requirements. Particular attention will be paid to comparing the draft document updates with NAPRA's Guidelines to Pharmacy Compounding (2006), in order to highlight the differences and consider how these changes will affect compounding pharmacies.
Upon completion of the webinar, participants will acquire an up-to-date understanding of the Non-sterile Preparations draft document and its implications. This knowledge will help participants implement a QA/QC program, achieve compliance with SOPs, protect themselves and personnel from hazardous drugs, and future-proof their pharmacy by identifying the equipment and facility requirements outlined in the draft document.
Intended audience
Pharmacists
Pharmacy Managers
Pharmacy Technicians
Auditors and Inspectors
Compliance Specialists
Learning Objectives
Review the NAPRA Non-sterile Preparations draft document and its implications.
Recognize key differences between the 2006 requirements and the draft document.
Evaluate equipment and facility requirements as stated in the draft document to optimize a purchase plan and facility design considerations.
Apply hazardous drug handling requirements to protect personnel.
Hardware/software requirements

High-speed internet connectivity and an updated internet browser is required to attend the webinar. The broadband recommended is 1 Mbps or better. The minimum browser requirements to attend the webinar are:
Google Chrome v39 or later
Mozilla Firefox v34 or later
Internet Explorer v8 or later
Microsoft Edge
Apple Safari v6 or later
JOE CABALEIRO, BS Pharm, RPh
Senior Associate, Gates Healthcare Associates
Disclosure: Accreditation Commission for Health Care, Consultant; Gates Healthcare Associates, Consultant; Healthrx Group, Consultant; MEDISCA, Consultant
Mr. Cabaleiro is the former Associate Director of Pharmacy for the Accreditation Commission for Health Care (ACHC); responsible for the development of compounding quality standards. He is also the former Executive Director for the Pharmacy Compounding Accreditation Board (PCAB), and a former surveyor for the Joint Commission on Accreditation of Healthcare Organizations (JCAHO). In addition, Mr. Cabaleiro has served on the United States Pharmacopeia's Council of the Convention.
A pharmacist for more than 30 years, Mr. Cabaleiro is a nationally recognized expert in non-sterile and sterile compounding, pharmacy quality, accreditation standards, and compounding pharmacy management and operations. Mr. Cabaleiro began his career in home-infusion therapy as pharmacy manager. In 1982, he developed an innovative compounding computer system used nationwide that combined a notebook computer, barcode reader, and electronic balance to permit the safe preparation of complex total parenteral nutrition solutions. He served multiple facilities in the roles of operations and general management during this period of his professional career.
In 1989, Mr. Cabaleiro founded and led a compounding pharmacy, catering to both human and veterinary patients in Cary, North Carolina. During his ownership of the pharmacy, he helped establish the Pharmacy Compounding Accreditation Board (PCAB) and served on various committees that developed industry standards. His pharmacy was among the first to receive PCAB accreditation. After selling the pharmacy, Mr. Cabaleiro joined PCAB during the organization's most dynamic period of growth.
Mr. Cabaleiro received his Bachelor of Science in Pharmacy from the University of Florida. He has served as an adjunct professor at the University of North Carolina, and has written numerous articles in professional journals, as well as policy and procedure manuals for home-infusion and compounding pharmacies.