USP <800>: Why Should I Comply? (live)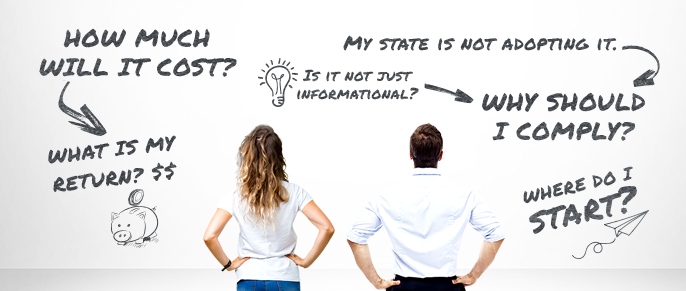 The live webinar has ended.
You can access the on-demand version here.
As a reminder, access to the on-demand version, slides, and state-by-state USP <800> adoption handout are available for purchase.
Description
On September 23rd 2019, the USP announced that "during the pending resolution of the appeals of <795> and <797>, <800> is informational and not compendially applicable"1 drawing further questions about the requirement for USP <800> compliance. In this 1-hour webinar, we will break it down for you, answering the most common and often glossed over USP <800> questions:
Do I have to comply?
Let's start by taking a closer look at the meaning of USP's announcement.
What are the State requirements? We will break it down for you, State-by-State.
What other legally enforceable or accreditation bodies do you need to consider?
How much will it cost?
The room, the HVAC system, the hood, the operational costs – Let's run the numbers and give you an idea of the type of investment you're looking at.
What's my return?
No one is asking about the return! With some simple examples, we will show you how your ROI may not be far off.
What are the business advantages?
Have you reflected on what the top compounded preparations are? What are the growing niche markets? Are they hazardous?
Not everyone is going to become USP <800> compliant – An opportunity for you?
Decrease your risk and increase your sales advantage!
Where do I start?
You are not alone! Learn how LP3 Network and its global partners, MEDISCA and MEDISCA Network, are here to guide you every step of the way!
Intended audience
Pharmacists and Pharmacy Technicians
Pharmacy Managers
Auditors and Inspectors
Quality Assurance Officers
Compliance Specialists
---
Hardware/software requirements

High speed internet connectivity and an updated internet browser is required to attend the webinar. The broadband recommended is 1 Mbps or better. The minimum browser requirements to attend the webinar are:
Google Chrome v39 or later
Mozilla Firefox v34 or later
Internet Explorer v8 or later
Microsoft Edge
Apple Safari v6 or later
---
COPYRIGHT
The webinar is copyright © 2019 LP3 Network.
---
1. USP Expert Committee - Compounding, Chemical Medicines Monograph 4. (23-Sep-2019). USP General Chapters <795>, <797>, <800>, and <825> - Notice of Intent to Revise. Retrieved from: https://www.uspnf.com/notices/compounding-chapters-postponement
MINDY CORMIER, PharmD, RPh

Advanced Clinical and Formulation Pharmacist, Medisca Network
Dr. Cormier is a pharmacist with over 20 years of Pharmacy field experience, which includes pharmacy operations/management and community pharmacy compounding of both non-sterile and sterile preparations. Currently, Dr. Cormier is an Advanced Clinical and Formulation Pharmacist at Medisca Network where she is responsible for approving customized compounding formula requests and consults with pharmacists and prescribers across the globe. Additionally, she consults with LP3 Network in the development of various ACPE-accredited programs and supervises the maintenance and operation of LP3 Network's sterile and non-sterile courses at the University of South California.