Live From the Lab: Compounded Oral Transmucosal Films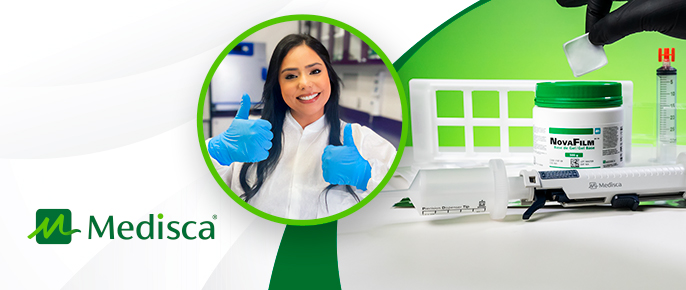 The webinar was live on February 23rd, 2023. You can register today and watch the recording.
Overview
Join Medisca Research & Development Manager, Raman Sidhu, to discuss Oral Transmucosal Films (OTFs) – a new dosage form introduced to the compounding industry just earlier this month. Leveraging the power of NovaFilmTM Gel Base, a cutting-edge molding process, and innovative thought, Medisca has expanded the capacity for compounders across the globe. Discuss the science, understand the opportunity, and explore what this can mean for your practice. Interested in how it's made? We will be in the lab for a live demonstration.
---
Intended audience
Pharmacists & Pharmacy Technicians
---
Hardware/software requirements
We will be using Zoom for this webinar - full system requirements can be found here. You can download the Zoom client here.
Web browser

Windows: Internet Explorer 11+, Edge 12+, Firefox 27+, Chrome 30+
macOS: Safari 7+, Firefox 27+, Chrome 30+
Linux: Firefox 27+, Chrome 30+

Internet connection

~600kbps (down) for high-quality video
~1.2-1.8Mbps (down) for 720p HD video 
~2-3Mbps (down) for 1080p HD video

Misc

Speakers – built-in, USB plug-in, or wireless Bluetooth

Hardware

 
Minimum
Recommended
Processor
Single-core 1Ghz or higher
Dual-core 2Ghz or higher (Intel i3/i5/i7 or AMD equivalent)
RAM
N/A
4 GB
---
COPYRIGHT
This webinar is Copyright© 2023 Medisca Pharmaceutique.
RAMAN SIDHU, BSc

Research & Development Manager, Medisca
Raman Sidhu is the Research & Development Manager for Medisca with over 10 years of experience in the pharmaceutical industry. As R&D Manager, Raman oversees product development of drug delivery systems, devices, and equipment; manages various studies, including permeation studies, safety studies, and stability studies; and is closely involved with technical support and troubleshooting. Raman also works as a laboratory facilitator for LP3 Network's Non-sterile programs, having trained 100s of compounding pharmacists throughout the years. Raman graduated from McGill University with a Bachelor of Science in Microbiology and Immunology and Specialization in Pharmacology.
Please note that this webinar is not accredited / does not offer any CE credit.