Current Topics in Hypothyroidism: From Diagnosis to Personalized Medicine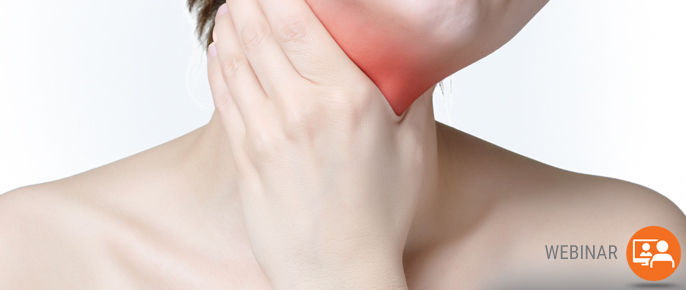 Please note that this is the on-demand version of the webinar. The live webinar was recorded on June 20, 2017.

Optimal thyroid function is essential for metabolic health with multisystem implications, including central nervous system function, cardiovascular health, lipid profile, bone metabolism, energy expenditure, and body weight. Across the spectrum of thyroid dysfunction, hypothyroidism is the most prevalent with the bulk of diagnoses occurring in women and the elderly. As the name suggests, hypothyroidism refers to insufficient functioning of the thyroid gland, which is marked by reduced production of thyroid hormones. Left untreated, hypothyroidism is associated with debilitating and sometimes life-threatening symptoms including bradycardia, neurological impairments, hyperlipidemia, fatigue, depression, and weight gain, among many others. Despite being the most common endocrine disorder, the diagnosis and appropriate treatment of hypothyroidism can be a challenge.
To understand the various treatment opportunities for hypothyroidism, participants will first review normal thyroid physiology and the importance of thyroid hormones in metabolic homeostasis and overall health. Following this, participants will learn how to characterize and classify thyroid dysfunctions from an etiological and diagnostic perspective. With an understanding of this fundamental material, participants will then be introduced to current paradigm shifts in the treatment of hypothyroidism, particularly as they pertain to the need for personalized therapeutic interventions. In doing so, practical information on compounding opportunities for the treatment of this condition will be provided, including the demand for combined hormone therapy, customized dosage strengths and ratios, the use of slow-release capsules, as well as tailored nutraceutical options.
Intended audience
Pharmacists
Pharmacy Technicians
Physicians
Naturopathic Doctors
Learning Objectives
Review the physiological mechanisms of the hypothalamic-pituitary-thyroid axis and its associated hormones.
Understand the importance of thyroid health.
Describe the spectrum of thyroid dysfunction with emphasis of the etiology, symptoms, and diagnosis of hyperthyroidism and hypothyroidism.
Recognize the need for personalized medicine in the treatment of hypothyroidism.
Learn about the range of compounding opportunities that can be applied to the treatment of hypothyroidism including combined hormone therapy, nutraceutical compounding, customized dosing, and the use of slow-release capsules.
Hardware/software requirements

High speed internet connectivity and an updated internet browser is required to attend the webinar. The broadband recommended is 1 Mbps or better. The minimum browser requirements to attend the webinar are:
Google Chrome v39 or later
Mozilla Firefox v34 or later
Internet Explorer v8 or later
Microsoft Edge
Apple Safari v6 or later
Facilitator:
 
TARA D. SCOTT, MD, FACOG, FAAFM, ABOIM, NCMP
Fellow of American College of OB/GYN; Advanced Fellow and certified in Anti-aging, Regenerative, and Functional Medicine; Board Certified, American Board of Integrative Medicine, Certified Menopause Practitioner through the North American Menopause Society; Clinical Associate Professor of OB/GYN at Northeast Ohio Medical University; Chief Medical Officer, Revitalize Medical Group
Disclosure: Metagenics, Consultant; MEDISCA, Consultant
Dr. Tara D. Scott graduated from Northeast Ohio University College of Medicine and completed her residency with Summa Health Systems at Akron City Hospital in Ohio. She recently "retired" from OB/GYN after almost 20 years to focus on functional and integrative medicine. She is an Associate Clinical Professor at Northeast Ohio Medical University, where she teaches residents and is involved in clinical research.
Dr. Scott is a certified menopause practitioner with the North American Menopause Society and a fellow of the American College of Obstetrics and Gynecology. She first became involved with hormone and integrative medicine while practicing as an OB/GYN. Her empathy for patients experiencing hormone-related issues led her to become trained as an advanced fellow and certified by the American Academy of Anti-Aging Medicine. The evidence-based practices she employed helped many patients conquer chronic wellness issues.  She then started Revitalize Medical Group, where she serves as the Chief Medical Officer. In 2016, she obtained an additional board certification in Integrative Medicine.  Dr. Scott is passionate about educating the medical community on the advances in evidence-based hormone therapy. She lectures around the community to raise awareness about wellness and hormone balance.
To receive a certificate of completion for the webinar, participants must view the on-demand webinar and complete a learning assessment with a score of at least 70%.
Naturopathic Doctors
For Members of the College of Naturopaths of Ontario (CONO)
On-demand webinar: 1 Category A Credit (Pharmacology)
It is the participant's responsibility to submit the certificate to CONO to claim credits.

Other provincial and international participants should verify with their respective governing board for accreditation equivalency. 
CANCELLATION AND REFUND POLICY:

There are no refunds, returns or transfer upon purchase of the webinar.
---