Customized Solutions for Allergic Diseases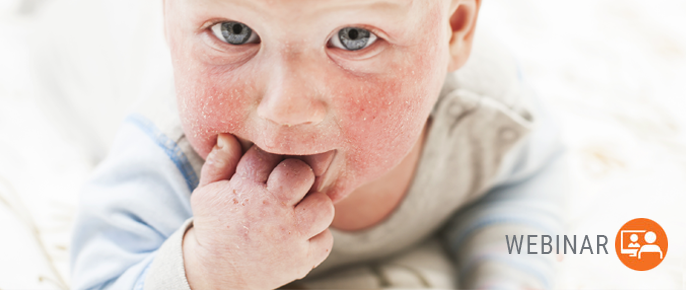 Please note that this is the on-demand version of the webinar. The live webinar was recorded on August 22, 2019.
Allergy comprises of a spectrum of diseases—atopic dermatitis, rhinoconjunctivitis, asthma, food allergies, and drug allergies—that are all driven by IgE-mediated hypersensitivity. The prevalence of atopy, the genetic tendency to develop allergic diseases, has more than doubled in the last 30 years. Severe allergies can impact an individual's quality of life and can even be life-threatening. In this webinar, we look at the pathophysiology underlying allergic diseases and its various clinical presentations. While allergen avoidance continues to be a mainstay in preventing allergy attacks, we review the pharmacotherapeutic options available to manage allergic diseases. Finally, we discuss compounding opportunities for patients with allergies, including extemporaneous formulations (sodium cromolyn ointment for atopic dermatitis and diphenhydramine troches for rhinitis); customized immunotherapy to induce allergen tolerance; and the avoidance of specific excipients in drug preparations.
Intended audience
Pharmacists
Pharmacy Technicians
Physicians
Nurses
Nurse Practitioners
Learning Objectives
Review the epidemiology of allergic diseases, its clinical presentation and diagnosis, and the treatment options available.
Define and differentiate the following terms: hypersensitvity, allergy, allergic reaction, allergen, atopy and anaphylaxis. 
Learn the different types of hypersensitvity reactions and the pathophysiology underlying Type-I (IgE-mediated) hypersensitivity.
Discuss some extemporaneous formulations that can be compounded to address the needs of patients with atopic dermatitis (sodium cromolyn ointment) and allergic rhinitis (diphenhydramine troches).
Explore the role of immunotherapy as an effective technique to induce tolerance to specific allergens in patients. 
Enumerate the many drug excipients that patients may be allergic to and the possible substitutes. 
---
COPYRIGHT
The webinar is copyright © 2019 LP3 Network.
---
Hardware/software requirements

High speed internet connectivity and an updated internet browser is required to attend the webinar. The broadband recommended is 1 Mbps or better. The minimum browser requirements to attend the webinar are:
Google Chrome v39 or later
Mozilla Firefox v34 or later
Internet Explorer v8 or later
Microsoft Edge
Apple Safari v6 or later
DAVID MASTROPIETRO, PhD, RPh

Assistant Professor of Pharmaceutical Sciences, Nova Southeastern University
Pharmacist
Dr. David Mastropietro is an Assistant Professor of Pharmaceutical Sciences at Nova Southeastern University, where he teaches the art of pharmacy compounding and the science of formulation development using classroom and laboratory methodologies. Dr. Mastropietro is also a pharmacist with over 18 years of experience practicing in a number of diverse settings. He has 6 years experience in the development, testing, and manufacturing of medications and dietary supplements where he serves a Senior Advisor for Formulation Development and Product Commercialization, as well as Quality Control Specialist for Private Label Contract Manufacturers. In addition to his teaching, pharmacist, and advisory roles, Dr. Mastropietro is active in research with over 24 journal publications, 60 presentations, 3 book chapters, and 7 US & World patent applications.
CANCELLATION AND REFUND POLICY:

There are no refunds, returns or transfer upon purchase of the webinar.
---