Compounding Opportunities for the Treatment of Adrenal Fatigue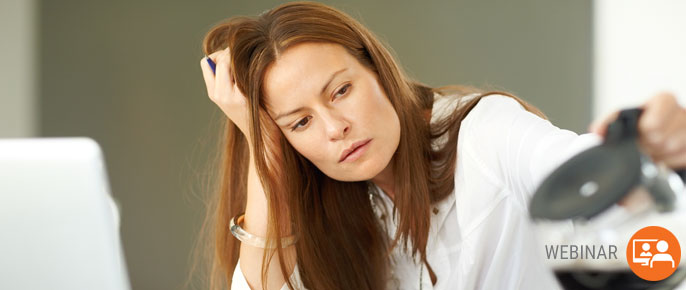 Please note that this is the on-demand version of the webinar. The live webinar was recorded on March 21, 2017.

Chronic stress is a prevailing concern in modern society. Although well recognized as an evolutionary adaptive system, prolonged activation of the stress response is associated with widespread disruptions in homeostatic processes that, over time, can culminate in devastating health consequences. In this webinar, participants will become well rehearsed on the maladaptive features of the stress response and the pivotal role the adrenal glands play in mediating this physiological system. This will be highlighted by examining the spectrum of adrenal dysfunctions, with particular emphasis placed on the contentious syndrome, adrenal fatigue.
Despite its prevalence and well-recognized signs and symptoms, adrenal fatigue remains a highly contested condition within the medical community, leaving millions untreated. In this activity, participants will recognize adrenal fatigue as a real phenomenon and, in doing so, understand the importance of maintaining proper adrenal function through appropriate therapeutic interventions when applicable (i.e., lifestyle changes, dietary supplements, and hormonal restoration). Upon reviewing the complexity and individuality of adrenal fatigue pathophysiology, as well as current concerns with commercial remedies and the quality of over-the-counter preparations, the niche opportunity for customized compounding solutions will be discussed.
 
Intended audience
​Pharmacists
Pharmacy Technicians
Physicians
Naturopathic Doctors
Hardware/software requirements

High speed internet connectivity and an updated internet browser is required to attend the webinar. The broadband recommended is 1 Mbps or better. The minimum browser requirements to attend the webinar are:
Google Chrome v39 or later
Mozilla Firefox v34 or later
Internet Explorer v8 or later
Microsoft Edge
Apple Safari v6 or later
Facilitator:
 
TARA D. SCOTT, MD, FACOG, FAAFM, ABOIM, NCMP
Fellow of American College of OB/GYN; Advanced Fellow and certified in Anti-aging, Regenerative, and Functional Medicine; Board Certified, American Board of Integrative Medicine, Certified Menopause Practitioner through the North American Menopause Society; Clinical Associate Professor of OB/GYN at Northeast Ohio Medical University; Chief Medical Officer, Revitalize Medical Group
Disclosure: Metagenics, Consultant; MEDISCA, Consultant
Dr. Tara D. Scott graduated from Northeast Ohio University College of Medicine and completed her residency with Summa Health Systems at Akron City Hospital in Ohio. She recently "retired" from OB/GYN after almost 20 years to focus on functional and integrative medicine. She is an Associate Clinical Professor at Northeast Ohio Medical University, where she teaches residents and is involved in clinical research.
Dr. Scott is a certified menopause practitioner with the North American Menopause Society and a fellow of the American College of Obstetrics and Gynecology. She first became involved with hormone and integrative medicine while practicing as an OB/GYN. Her empathy for patients experiencing hormone-related issues led her to become trained as an advanced fellow and certified by the American Academy of Anti-Aging Medicine. The evidence-based practices she employed helped many patients conquer chronic wellness issues.  She then started Revitalize Medical Group, where she serves as the Chief Medical Officer. In 2016 she obtained an additional board certification in Integrative Medicine. Dr. Scott is passionate about educating the medical community on the advances in evidence-based hormone therapy. She lectures around the community to raise awareness about wellness and hormone balance.
To receive a certificate of completion for the webinar, participants must view the on-demand webinar and complete a learning assessment with a score of at least 70%.
Naturopathic Doctors
For Members of the College of Naturopaths of Ontario (CONO)
On-demand webinar: 1 Category A Credit (Pharmacology)
It is the participant's responsibility to submit the certificate to CONO to claim credits.

Other provincial and international participants should verify with their respective governing board for accreditation equivalency. 
CANCELLATION AND REFUND POLICY:

There are no refunds, returns or transfer upon purchase of the webinar.
---