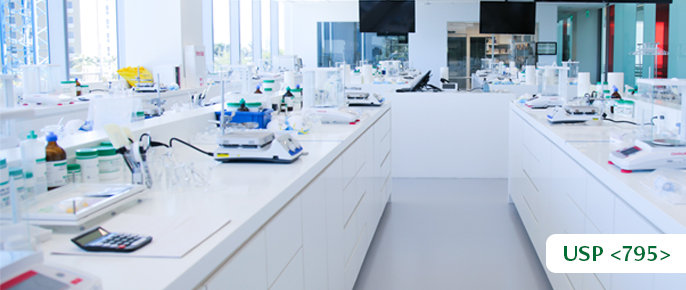 This is the on-demand version of the webinar. The webinar was recorded on February 16th, 2023. 
This webinar is sponsored by Medisca
Overview
On November 1, 2022, the United States Pharmacopeia (USP) published the revised General Chapter <795> Pharmaceutical Compounding – Nonsterile Preparations, after many years of discussions, appeals, and amendments. The chapter is set to be compendially official on November 1, 2023 and pharmacies are tasked with getting their processes and operations up-to-speed fast to ensure compliance. 
In this webinar we break down the new requirements of USP <795> in a convenient compare-contrast approach that facilitates your transition from the current to the new. Knowing is one thing, doing is another. To support your transition we have additional resources and support that will be covered in this program. The end goal is to get you ready for your 8-month sprint toward compliance.
---
Intended audience
Pharmacists & Pharmacy Technicians
---
Hardware/software requirements
We will be using Zoom for this webinar - full system requirements can be found here. You can download the Zoom client here.
Web browser

Windows: Internet Explorer 11+, Edge 12+, Firefox 27+, Chrome 30+
macOS: Safari 7+, Firefox 27+, Chrome 30+
Linux: Firefox 27+, Chrome 30+

Internet connection

~600kbps (down) for high-quality video
~1.2-1.8Mbps (down) for 720p HD video 
~2-3Mbps (down) for 1080p HD video

Misc

Speakers – built-in, USB plug-in, or wireless Bluetooth

Hardware

 
Minimum
Recommended
Processor
Single-core 1Ghz or higher
Dual-core 2Ghz or higher (Intel i3/i5/i7 or AMD equivalent)
RAM
N/A
4 GB
---
COPYRIGHT
This webinar is Copyright © 2023 LP3 Network
DAVID MASTROPIETRO, PhD, RPh
Contributor / Facilitator, LP3 Network
Assistant Professor, Department of Pharmaceutical Sciences, Nova Southeastern University College of Pharmacy
Consultant, Solara Labs
Disclosure: Consultant, Solara Labs
Dr. David Mastropietro is an Assistant Professor of Pharmaceutical Sciences at Nova Southeastern University, College of Pharmacy where he teaches the art of pharmacy compounding and the science of formulation development using classroom and laboratory methodologies. Dr. Mastropietro is also a pharmacist with over 20 years of experience practicing in community and hospital settings. He has 8 years' experience consulting in the development, testing, and manufacturing of dietary supplements, serving as Senior Advisor for Formulation Development & Product Commercialization for Solara Labs, Inc. and Director of Personalized Formulation & Experience for Clean Living & Wellness. In addition to his teaching, pharmacist, and advisory roles, Dr. Mastropietro is active in research with 24 journal publications, over 85 abstracts and presentations, 3 book chapters, and 7 US & World patent applications.
Please note that this webinar is not accredited / does not offer any CE credit.