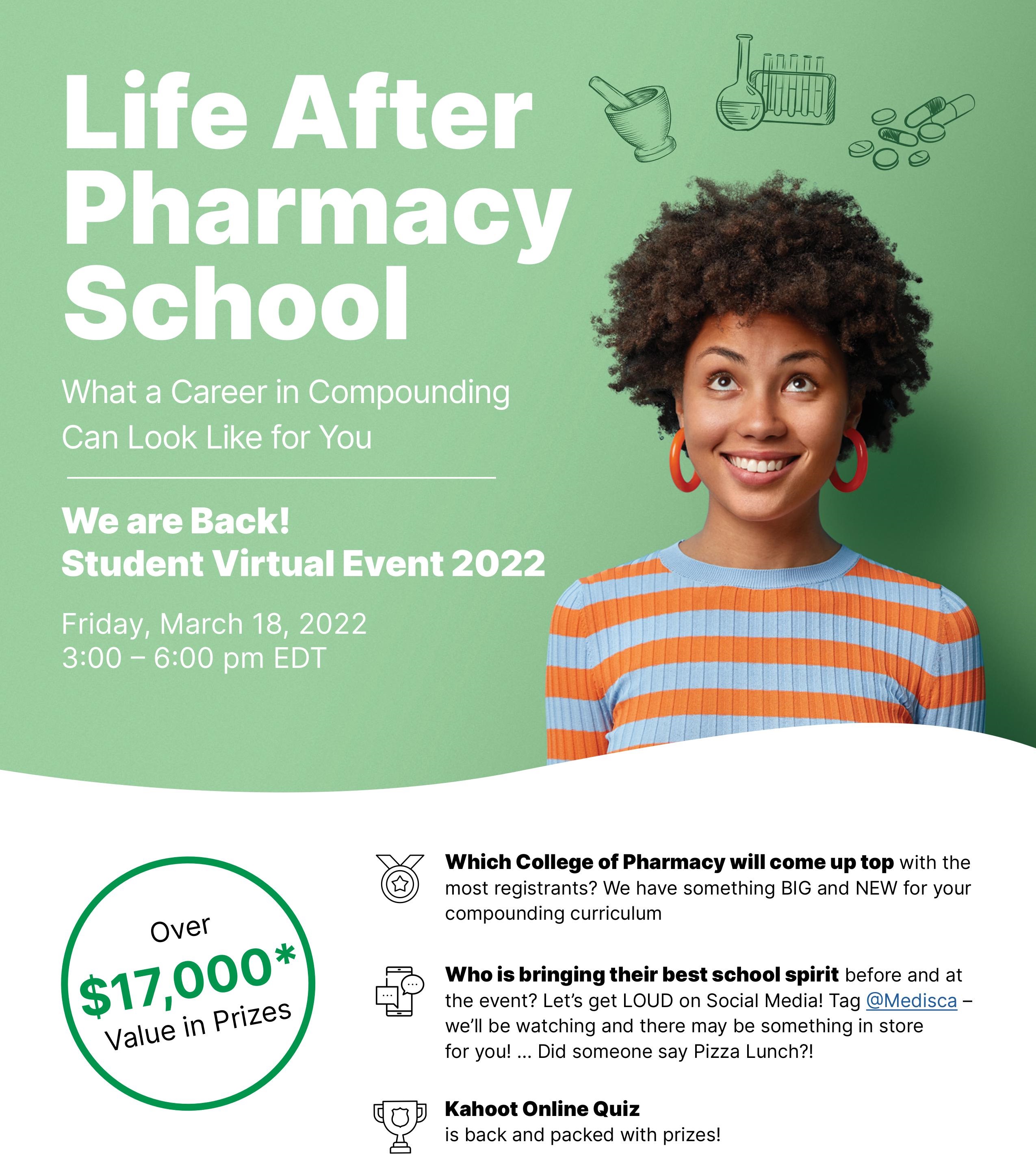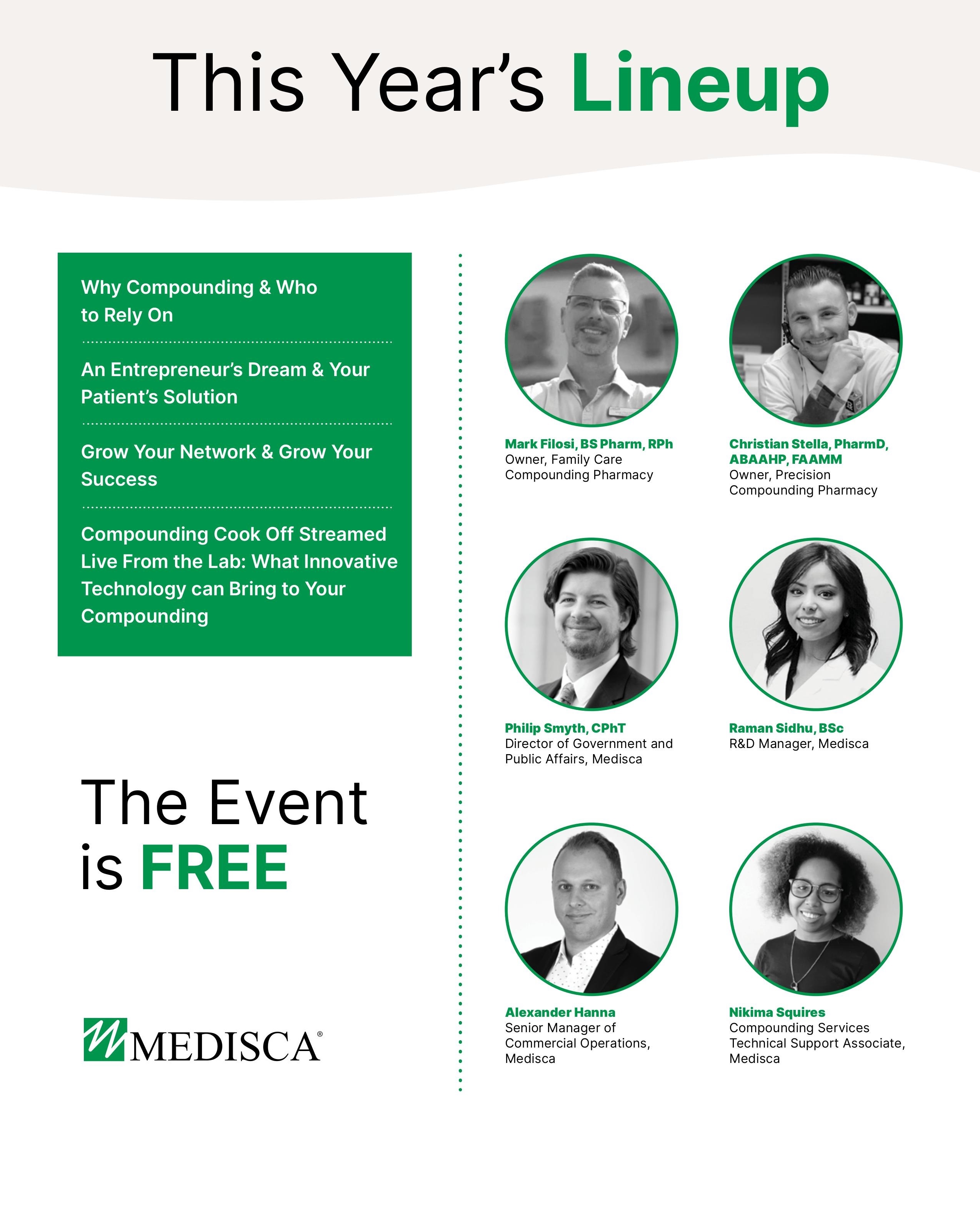 *NO PURCHASE NECESSARY TO QUALIFY. Multiple prizes with an estimated total value of $17,000USD available at the virtual event on March 18, 2022 to registrants who attend the virtual event, are students enrolled in a pharmacy program in the United States of America or Canada and that have submitted a completed Enrollment Form. The terms and conditions to receive a prize are located in the Enrollment Form. Contact a Medisca or LP3 Network representative for more information.
| | |
| --- | --- |
| Mark Filosi, BS Pharm, RPh | |
Mr. Filosi is the owner of a thriving non-sterile compounding practice in Plant City, Florida, where he is responsible for the sales and marketing of the compounding segment of his business. Mr. Filosi has over 25 years of experience in both non-sterile and sterile compounding and is a former surveyor for the Pharmacy Compounding Accreditation Board (PCAB), a service of the Accreditation Commission for Health Care (ACHC).
Mr. Filosi graduated cum laude from Fitchburg State College in Fitchburg, Massachusetts, and then went on to graduate cum laude in Pharmacy from Massachusetts College of Pharmacy in Boston, Massachusetts. Today, Mr. Filosi is a preceptor for Florida A & M University, University of Florida, Virginia Commonwealth University, and Massachusetts College of Pharmacy.
In his free time, Mr. Filosi enjoys horseback riding with his daughter and being a scoutmaster for his son's troop.
| | |
| --- | --- |
| Christian Stella, PharmD, ABAAHP, FAAMM | |
Dr. Christian Stella, is a fourth generation pharmacist and owner of Precision Compounding Pharmacy in Bellmore New York, who hit the ground running, growing his non-sterile and sterile compounding businesses by 20 folds and building a collaborative network of over 300 providers in just 5 short years. Dedicated to optimizing therapeutic outcomes for patients across the country, Christian's practice specializes in bioidentical hormone therapy, aging, and metabolic medicine. Christian is a graduate of St John's University with a Doctorate in Pharmacy; President of Proscripts Compounding Division that caters to the MLB, NFL, NBA, and NHL; Certified American Board of Anti-Aging Health Practitioner; Fellow in Anti-Aging and Metabolic Medicine, and Founder of Vintage Lab Collections.
| | |
| --- | --- |
| Philip Smyth | |
For over ten years, Philip Smyth has been a dedicated leader in the Pharmaceutical Compounding Industry. Having worked in an independent pharmacy for several years, Philip saw firsthand the dire need to protect patient access, igniting his activism. As Director of Federal & Regional Accounts for MEDISCA, Philip has contributed to the latest success the industry has seen in pushing back against the FDA, helping lead the fight to protect cBHRT, and serving on several committees and groups with APC.
Philip currently resides in Ohio, where he is active with the Ohio Pharmacy Association and has created relationships with many local state and federal legislators. Philip Smyth's advocacy is securing the future of pharmaceutical compounding, independent pharmacies and strengthening the communal objective to offer the best patient care continuously.
| | |
| --- | --- |
| Raman Sidhu, BSc | |
Ms. Sidhu graduated from McGill University with a Bachelor of Science in Microbiology and Immunology. Since then, she has dedicated her professional career to continuously learning and striving to improve the pharmaceutical compounding industry. She is currently the Research & Development Manager at MEDISCA, where her creativity, attention to detail, and experience allow her to flourish in her role. At LP3 Network, Raman is passionate about teaching and is a facilitator for the Non-Sterile Training program.
In her spare time, Raman loves to keep up with the current trends in the cosmetic industry and spending time with her family.
| | |
| --- | --- |
| Nikima Squires, CPhT | |
Nikima is a Technical Support Associate for Medisca's Compounding Services. Her main tasks include supporting compounding pharmacies by providing them with formulations, relevant literature, and answering their day-to-day compounding inquiries. Nikima enjoys working with her amazing team and helping new compounders understand the many facets of compounding pharmacy.
| | |
| --- | --- |
| Alexander Hanna | |
Alex joined the Medisca team in 2011 as an Account Executive where he worked closely servicing compounding pharmacies across North America. Five years into his career at Medisca, Alex made the switch over to the Research & Development team, where he took on the role of Equipment & Device Specialist, and later on, Equipment Sales Manager. Today, Alex is the Senior Commercial Operations Manager.
When creating your LP3 Network account, please use your personal email address (i.e., not your college/school/university one).