Hidden Heroes - Be The Change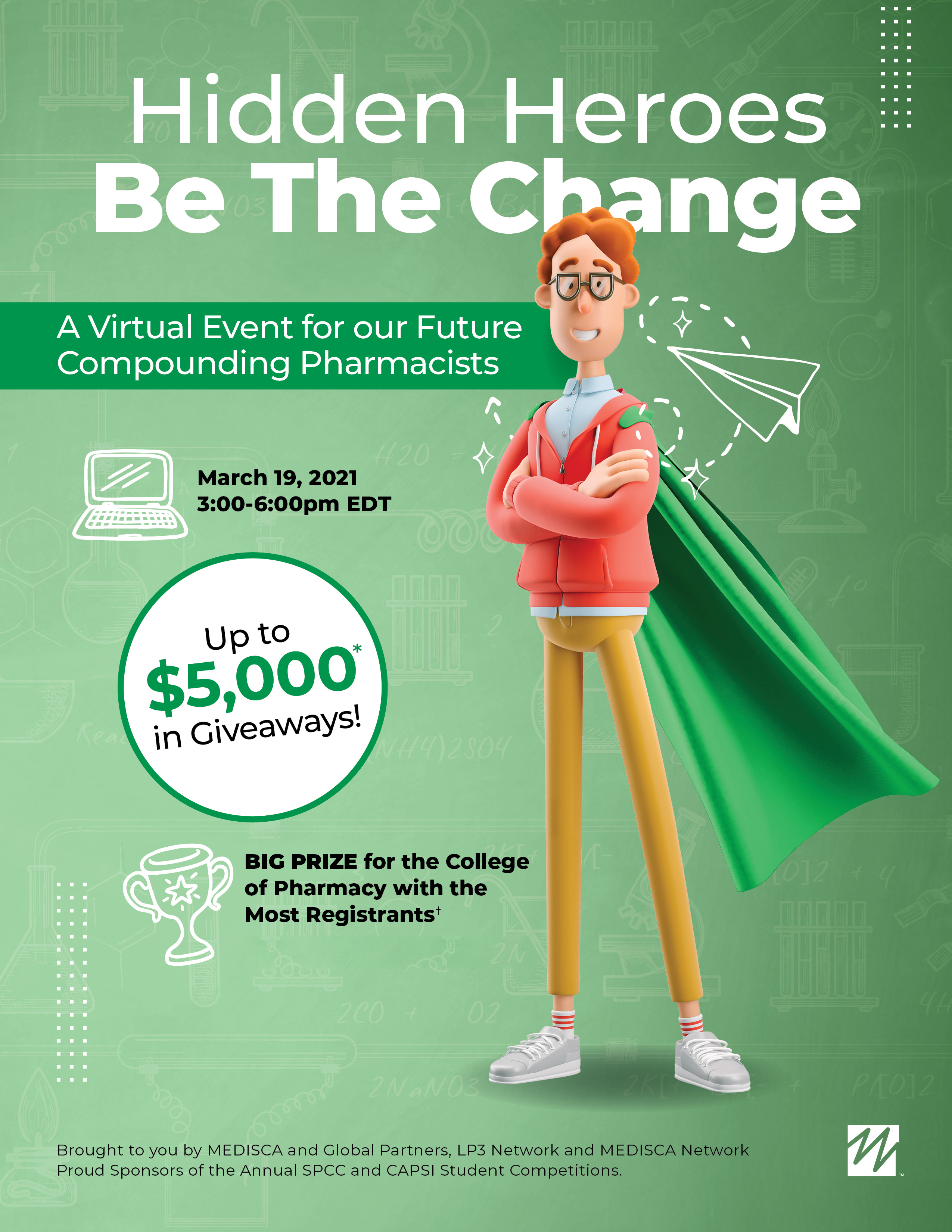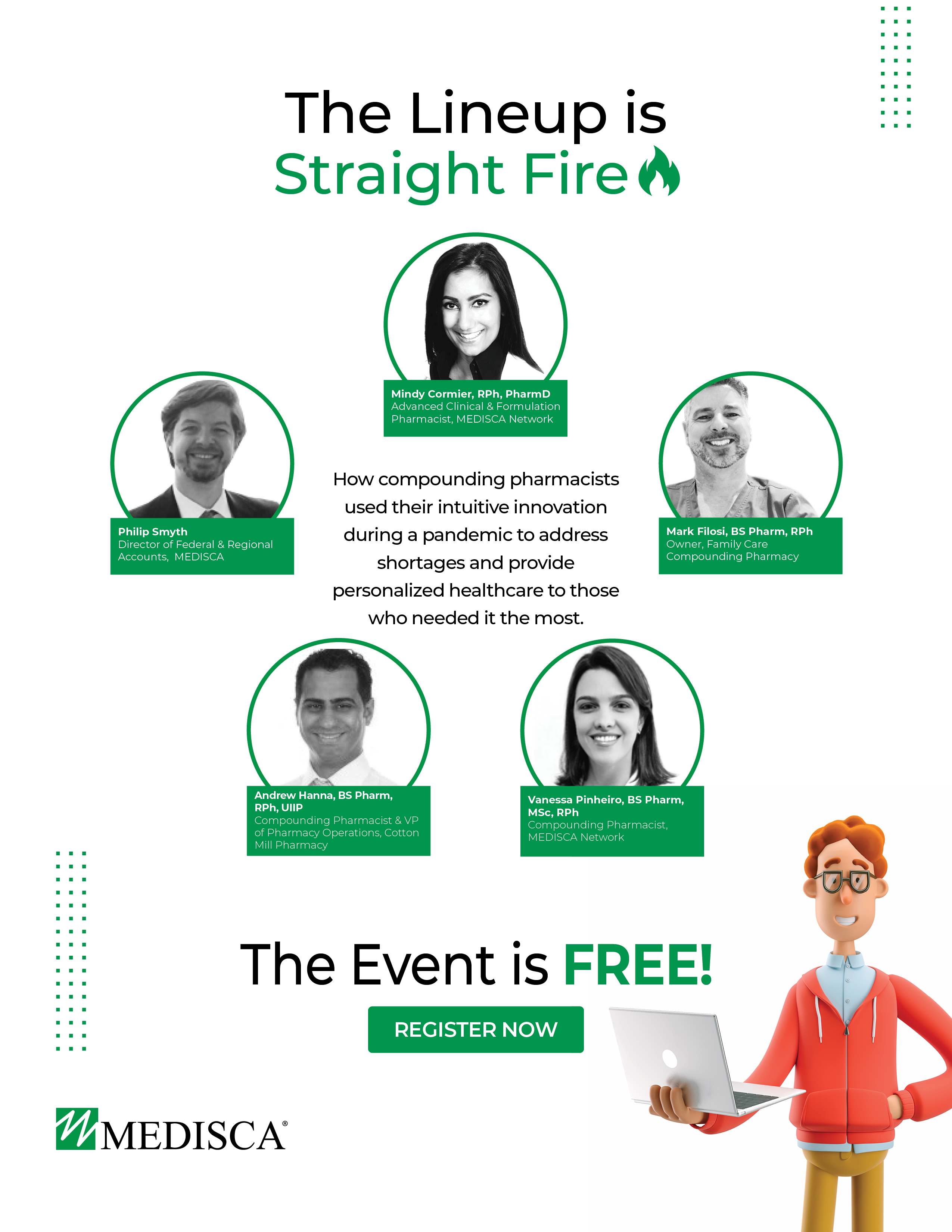 *NO PURCHASE NECESSARY TO QUALIFY. Multiple prizes with an estimated total value of $5000USD available at the virtual event on March 19, 2021 to registrants who attend the virtual event, are students enrolled in a pharmacy program in the United States or Canada and that have submitted a completed Enrollment Form provided by LP3 Network Inc. (the "Registrant"). The terms and conditions to receive a prize are located in the Enrollment Form. Contact an LP3 Network representative for more information.
†Terms and conditions are located in the Enrollment Form. Contact an LP3 Network representative for more information.
| | |
| --- | --- |
| Mindy Cormier, PharmD, RPh | |
Dr. Cormier is a pharmacist with over 20 years of diverse pharmacy field experience, which includes pharmacy operations/management and community pharmacy compounding of both non-sterile and sterile preparations. Currently, Dr. Cormier is an Advanced Clinical and Formulation Pharmacist at Medisca Network where she is responsible for approving customized non-sterile and sterile compounding formula requests and consults with pharmacists and prescribers across the globe. Additionally, she consults with LP3 Network in the development of various ACPE-accredited programs and supervises the maintenance and operation of LP3 Network's sterile and non-sterile courses at the University of South California. Dr. Cormier provides clinical research support and subject-matter expertise to various pharmaceutical companies and is well versed in United States and Canadian pharmacy regulations.
| | |
| --- | --- |
| Vanessa Pinheiro, BS Pharm, MSc, RPh | |
Mrs. Pinheiro is a compounding pharmacist with over 19 years of experience, which she applies as a consultant for MEDISCA Network's Technical Support Services Department. Additionally, she manages the on-site operations of LP3 Network's Non-sterile and Sterile Compounding courses, held at their state-of-the-art facility in Aventura, Florida.

Mrs. Pinheiro received her Master's degree in Science from the University of São Paulo and taught at the College of Pharmacy at the University Suprema in Brazil. Additionally, she was the owner of RX Pharmaceutica and Petfarma Pharmacies in Brazil, for which she was responsible for compounding, quality control of raw-materials and final products, training pharmacists and technicians, and counseling patients.

Mrs. Pinheiro was a Surveyor and Standards Committee member of Brazil's National Association of Pharmaceutical Masters, a non-profit organization that oversees customized pharmaceutical preparations. She has specialty training in non-sterile compounding, pharmaceutical technology, cosmetology, and veterinary compounding. She is also the author of the veterinary formulary book, Formulário Veterinário Farmacêutico.
| | |
| --- | --- |
| Mark Filosi, BS Pharm, RPh | |
Mr. Filosi is the owner of a thriving non-sterile compounding practice in Plant City, Florida, where he is responsible for the sales and marketing of the compounding segment of his business. Mr. Filosi has over 25 years of experience in both non-sterile and sterile compounding and is a former surveyor for the Pharmacy Compounding Accreditation Board (PCAB), a service of the Accreditation Commission for Health Care (ACHC).

Mr. Filosi graduated cum laude from Fitchburg State College in Fitchburg, Massachusetts, and then went on to graduate cum laude in Pharmacy from Massachusetts College of Pharmacy in Boston, Massachusetts. Today, Mr. Filosi is a preceptor for Florida A & M University, University of Florida, Virginia Commonwealth University, and Massachusetts College of Pharmacy.

In his free time, Mr. Filosi enjoys horseback riding with his daughter and being a scoutmaster for his son's troop.
| | |
| --- | --- |
| Andrew Hanna, BS Pharm, RPh, UIIP | |
Andrew is passionate about creating customized solutions for patients with complicated pharmaceutical needs, a passion he is able to pursue as the owner and VP of Operations at Cotton Mill Pharmacy, a compounding pharmacy located in Cornwall, Ontario. At Cotton Mill Pharmacy, Mr. Hanna specializes in educating patients on individualized treatment plans with special focus in pain management and compounding solutions. Mr. Hanna also server on the Pharmacist Practice Committee for the Ontario Pharmacists Association and has served as an Expert Legal Witness in Compounding. Andrew Hanna holds Bachelor of Science and Liberal Science degrees from Laurentian University and a Bachelors in Pharmacy from the University of Toronto.
| | |
| --- | --- |
| Philip Smyth | |
For over ten years, Philip Smyth has been a dedicated leader in the Pharmaceutical Compounding Industry. Having worked in an independent pharmacy for several years, Philip saw firsthand the dire need to protect patient access, igniting his activism.
As Director of Federal & Regional Accounts for MEDISCA, Philip has contributed to the latest success the industry has seen in pushing back against the FDA, helping lead the fight to protect cBHRT, and serving on several committees and groups with APC.
Philip currently resides in Ohio, where he is active with the Ohio Pharmacy Association and has created relationships with many local state and federal legislators.
Philip Smyth's advocacy is securing the future of pharmaceutical compounding, independent pharmacies and strengthening the communal objective to offer the best patient care continuously.
When creating your LP3 Network account, please use your personal email address (i.e., not your college/school/university one).