Virtual Seminar – April 30-May 1, 2022 | Veterinary Compounding – A Customized Approach
April 30, 2022

to

May 1, 2022


Please note that the live stream will take place according to Eastern Daylight Time (EDT).
Day 1 - 9:00am to 6:00pm EDT
Day 2 - 9:00am to 1:00pm EDT
Course Format
1.5-day live virtual seminar (12 hours) that allows you to connect and interact online, in real time, through open mic Q&A sessions, group discussions, polls, and online chats. Practically apply your knowledge through customized formula development and case assessments. Leave the live event with a comprehensive manual containing references, resources, and tools that will help you expand your veterinary compounding practice and optimize therapeutic outcome for your veterinary patients.
Course Description
Veterinary pharmacy is a well-established niche specialty that is high in demand and diverse in opportunity. Although once dominated by veterinarians, pharmacists now play an essential role in the treatment of animals. Contrary to typical pharmacy for human patients, veterinary pharmacy is uniquely challenged with treating a diverse range of species, on top of individual variations, concerns with patient non-compliance, and limited veterinary drug availability. Addressing these challenges and obstacles requires specialized knowledge in species-specific physiology, pathophysiology, pharmacology, and behavior; much of which exceeds what is taught in pharmacy school. In this live activity, participants will gain a fundamental understanding of veterinary pharmacy and applicable skills in customized medications.
Recognize species-specific pharmacokinetics, drug contraindications, patient compliance, treatment efficacy, and drug availability – all variables that set the need for customized pharmacotherapy.
Interpret and appraise veterinary compounding regulations; how do they differ from human compounding?
Explore compounding opportunities in the form of adjusting dosage strength, customizing dosage forms, and tailoring ingredient selection based on animal specificities and tolerances.
Discuss key compounding principles, including the benefits and risks of different routes of administration, the appropriate application of excipients, and the incorporation of flavoring agents.
Develop 2 customized formulas from scratch applying day-to-day compounding references, selecting appropriate ingredients, performing appropriate pharmacy calculations, among more.
Investigate customized treatment options for 12 common animal disease states – canine keratoconjunctivitis sicca, feline herpesvirus-1, equine conreal ulceration, canine atopic dermatitis, equine scratches, feline & canine epilepsy, feline hyperthyroidism, canine diarrhea, feline gastroparesis, feline urine spraying, and feline situational anxiety.
Apply your knowledge with 4 case studies (canine, feline, equine, and avian) that require you to properly diagnose and treat the patient.
Put your business hat on and discuss marketing tips and tricks to grow your veterinary compounding business.
---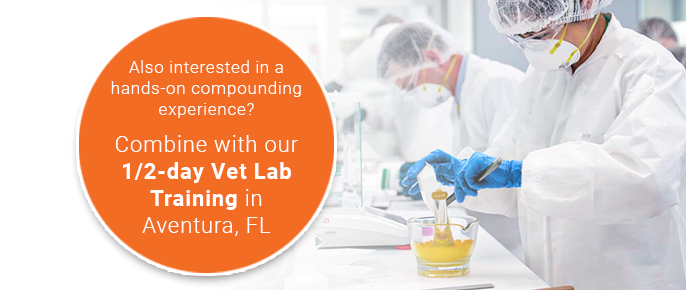 Intended audience
Pharmacists, pharmacy technicians, and other compounding personnel looking to get into or are currently engaged in veterinary compounding.
---
Learning Objectives
PHARMACISTS
Examine the challenges associated with veterinary pharmacy, including species-specific pharmacokinetics, patient compliance, drug availability, and drug contraindications.
Recognize the need for customized medication opportunities for the treatment of veterinary animals with emphasis placed on dogs, cats, and horses.
Evaluate the different ways compounding can achieve customization and address the difficulties associated with veterinary pharmacy.
Apply skills of reasoning and interpretation in appraising current regulatory standards, recommendations on compounding veterinary drugs, and drug information resources.
Investigate the benefits and challenges of various routes of administration and dosage forms.
Compare and contrast the advantages of various excipients, species-specific intolerances to certain excipients, and how to correctly use them in compounding.
Discuss customization opportunities for the pharmaco-treatment of various animal disease states, including canine dermatitis, feline herpes virus-1, equine corneal ulceration, canine epilepsy, feline hyperthyroidism, feline gastroparesis, and feline urine spraying among more.
Acquire marketing tips and skills needed to commence or expand your veterinary pharmacy practice.

PHARMACY TECHNICIANS
Recognize the drawbacks and limitations of veterinary-labeled products available on the market today.
Discuss the need for customized medications to address the challenges of veterinary pharmacy.
Apply skills of reasoning and interpretation in appraising current regulatory standards and recommendations for compounding veterinary drugs.
Identify the challenges of animal patient compliance and how to address these difficulties with alternate routes of administration, flavoring oral preparations, and applying appropriate dispensing devices.
Investigate the benefits and challenges of various routes of administration and dosage forms.
Compare and contrast the advantage of various excipients and how to correctly implement them in compounding.
Practice customizing formulations.
Discuss various veterinary disease states and learn about specific opportunities for customization and compounding.
---
Hardware/software requirements
We will be using Zoom for this Virtual Seminar. We recommend joining from a desktop or laptop computer - full system requirements can be found here. You can download the Zoom client here.
If you will be joining from a tablet or mobile device, check out the system requirements here. More information: Getting started on Android and iOS.
Web browser

Windows: Internet Explorer 11+, Edge 12+, Firefox 27+, Chrome 30+
macOS: Safari 7+, Firefox 27+, Chrome 30+
Linux: Firefox 27+, Chrome 30+

Internet connection

~600kbps (down) for high-quality video
~1.2-1.8Mbps (down) for 720p HD video 
~2-3Mbps (down) for 1080p HD video

Misc

Speakers/Microphone – built-in, USB plug-in, or wireless Bluetooth

Hardware

 
Minimum
Recommended
Processor
Single-core 1Ghz or higher
Dual-core 2Ghz or higher (Intel i3/i5/i7 or AMD equivalent)
RAM
N/A
4 GB
---
Testimonials
"I would recommend this course because of the details provided. The handouts were practical and very informative. The presenter was very knowledgeable on the subject matter. The format of the course was excellent and the lab option was a great way to ensure that the subject material is understood. I am now more confident in my vet compounding abilities and this training will help me with my veterinary patients and their owners."
Bonnie Meyerink | Pharmacist, South Carolina
"Pharmacy- and veterinary-specific compounding regulations, common disease states, calculations, formulations, things to watch out for that are different from human compounding, and compounding techniques - this is by far the best veterinary compounding course that I have attended! I would recommend this course to compounders who are new to vet compounding, as well as compounders who have been in the field for a long time. 
Jennifer O'Grady | Pharmacist
"I have been involved in veterinary compounding for 20+ years. This course was very comprehensive and I picked up several new "tricks" that will be beneficial to my practice."
Mark Smith | Pharmacist, South Carolina
---
Promotional Video
---
FINANCIAL SUPPORT
This learning activity has received financial support from MEDISCA Inc. in the form of an educational grant.
---
COPYRIGHT
This CE Activity is Copyright © 2017-2023 LP3 Network.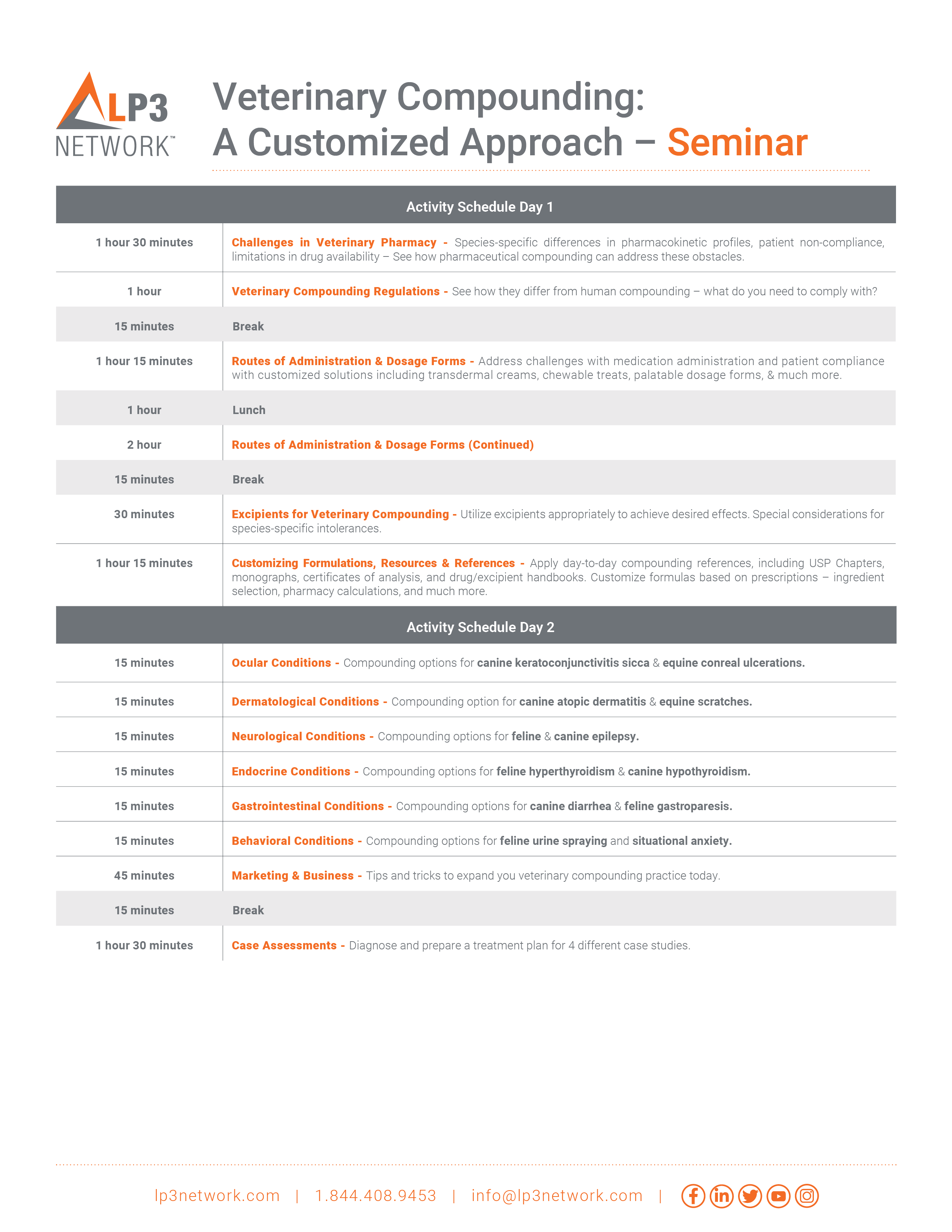 LAUREN EICHSTADT FORSYTHE, PharmD, DICVP, FSVHP
Medication Dispensary Coordinator & Clinical Assistant Professor – Department of Veterinary Clinical Medicine
University of Illinois at Urbana-Champaign, College of Veterinary Medicine, Veterinary Teaching Hospital

Disclosure: None

  
Dr. Forsythe is a Clinical Assistant Professor of Pharmacy and the Pharmacy Service Head at the University of Illinois Veterinary Teaching Hospital. She is also a diplomat of the International College of Veterinary Pharmacists. Prior to this, she acted as Veterinary Pharmacist at the University of California – Davis Veterinary Medical Teaching Hospital. 
Dr. Forsythe grew up in western Pennsylvania as the daughter of two veterinarians and completed her doctor of pharmacy degree at the University of Findlay, College of Pharmacy in May 2015. Dr. Forsythe then went on to complete a residency in veterinary pharmacy at the Purdue Veterinary Teaching Hospital. Upon completion of her residency, Dr. Forsythe started a position with the UC Davis Veterinary Medical Teaching Hospital and received her board certification in veterinary pharmacy. 
Dr. Forsythe's research interests include behavioral therapy in cats and safety and efficacy of compounded products in veterinary patients. Dr. Forsythe also enjoys teaching both pharmacists and veterinarians and is active in providing continuing education through a variety of avenues, as well as working with students of both professions. 
Dr. Forsythe has a number of publications in the International Journal of Pharmaceutical Compounding and was an associate editor for Plumb's Veterinary Drug Handbook.
---
DAVID MASTROPIETRO, PhD, RPh
Contributor / Facilitator, LP3 Network
Assistant Professor, Department of Pharmaceutical Sciences, Nova Southeastern University College of Pharmacy
Consultant, Solara Labs
Disclosure: Consultant, Solara Labs
Dr. David Mastropietro is an Assistant Professor of Pharmaceutical Sciences at Nova Southeastern University, College of Pharmacy where he teaches the art of pharmacy compounding and the science of formulation development using classroom and laboratory methodologies.
Dr. Mastropietro is also a pharmacist with over 20 years of experience practicing in community and hospital settings. He has 8 years' experience consulting in the development, testing, and manufacturing of dietary supplements, serving as Senior Advisor for Formulation Development & Product Commercialization for Solara Labs, Inc. and Director of Personalized Formulation & Experience for Clean Living & Wellness.
In addition to his teaching, pharmacist, and advisory roles, Dr. Mastropietro is active in research with 24 journal publications, over 85 abstracts and presentations, 3 book chapters, and 7 US & World patent applications.
---
Editor
SHANNON BELLEVUE, BSc, MSc

Science, Product & Corporate Communications Manager
Disclosure: None                                                                                                                                                            
Pharmacists & Technicians
The Live Event is accredited for Pharmacists and Pharmacy Technicians by the Accreditation Council for Pharmacy Education (ACPE) through CPE Consultants, LLC.
Total CPE Credits: 12 CPE Hours = 1.2 CEUs
| | |
| --- | --- |
| TYPE | Application-based |
| UAN | 0864-9999-21-014-L07-P/T |
| CREDITS | 12 CPE Hours = 1.2 CEUs |
| RELEASE DATE | May 15, 2021 |
| EXPIRATION DATE | May 15, 2024 |
COMPLETION REQUIREMENTS
Attend the live seminar in full (log in and logout times will be recorded).
Submit a completed live event evaluation form online within 14 days.
When the aforementioned steps have been completed and approved:
Pharmacists and Pharmacy Technicians registered in the United States will obtain a statement of completed credits on their NABP e-Profile within 60 days.
Pharmacists and Pharmacy Technicians registered elsewhere will receive a statement of completion by email within 60 days.
All participants will receive an automated email from LP3 Network advising participants that they can download the LP3 Network certificate.
| | |
| --- | --- |
| | CPE Consultants, LLC is accredited by the Accreditation Council for Pharmacy Education as a provider of continuing pharmacy education. |
International participants should verify with their respective governing board for accreditation equivalency.
CANCELLATION AND REFUND POLICY
In the event that LP3 Network cancels a course, LP3 Network's sole liability shall be course repayment. In no event shall LP3 Network be responsible for any costs related to travel and/or accommodation. A written request must be sent to LP3 Network Inc. requesting 'Cancellation without Transfer' to an alternate live activity event date. If cancellation occurs at greater than or equal to 31 days from live activity event date, then registrant will receive a 75% refund; 15-30 days a 50% refund; and less than or equal to 14 days no refund. There are no refunds, returns, or transfer requests upon purchase of a home study, digital work book, webinar, and eLearning modules. LP3 NETWORK INC. shall be excused from any delay caused by reason of any occurrence or contingency beyond its reasonable control (a "Force Majeure"), including but not limited to, acts of God, hurricane, earthquake, labour disputes, strikes, riots, war, and governmental requirements. The obligation to pay money to LP3 NETWORK INC. in a timely manner is absolute and shall not be subject to this Force Majeure provision. In such event, LP3 NETWORK INC. will not issue any refunds, only transfer to an alternate live activity event date.
---
TRANSFER POLICY
The transfer policy is only in effect if requested greater than or equal to 14 days prior to the original live activity date. Failure to submit the "Transfer Request" at least 14 days prior to the original live activity date will default to the "Cancellation and Refund Policy". The transfer policy can only be applied one (1) time. Transfer to a new live activity date must be within the current calendar year. Failure to attend the new live activity will result in no refund and will no longer be transferable. Confirmation of the new activity date is subject to approval by LP3 Network based on the number of available seats within the selected live activity. There are no refunds, returns, or transfers upon purchase of the home study.
---