Toronto, ON – October 20-21, 2018
October 20, 2018

to

October 21, 2018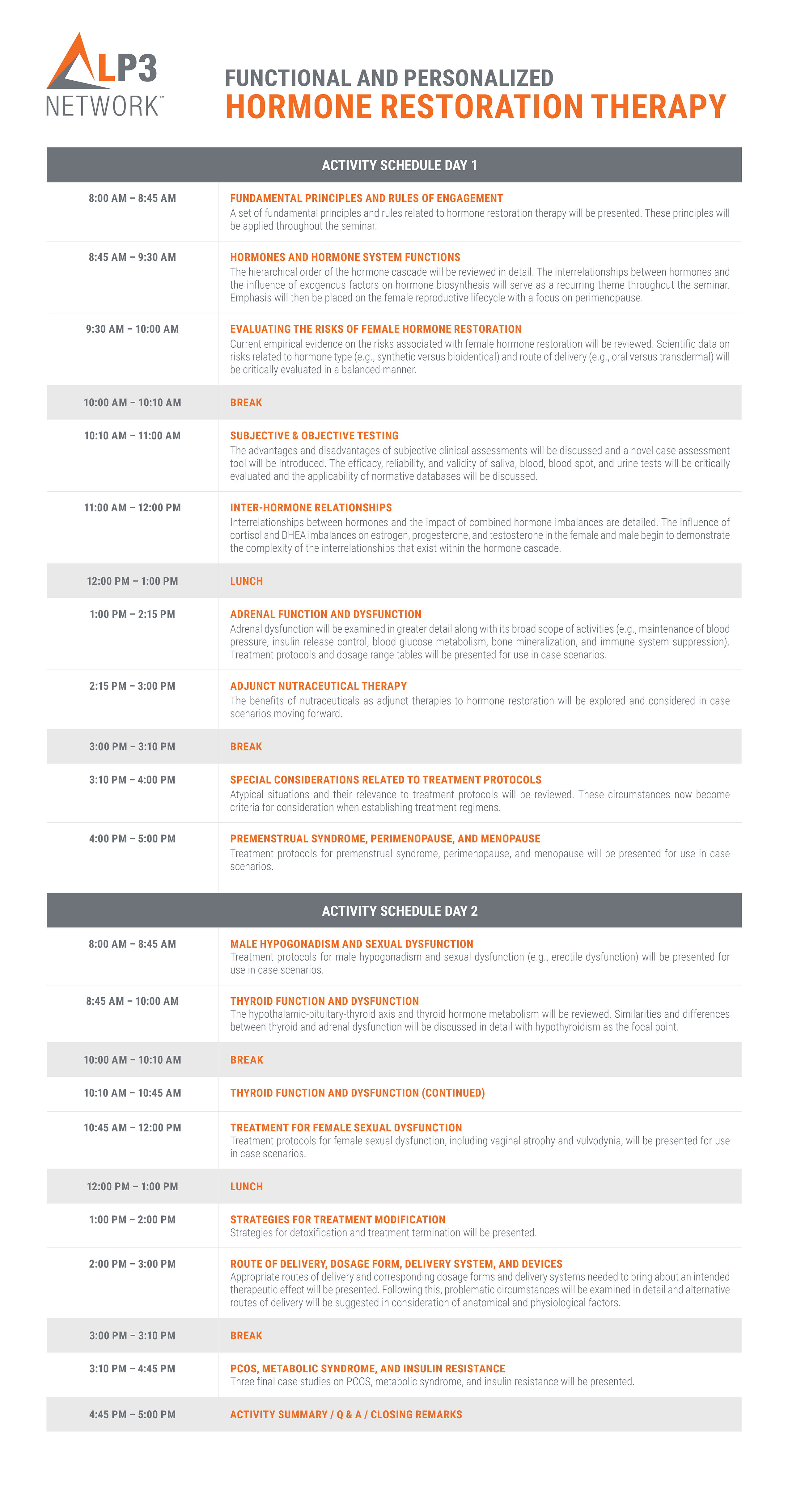 Hilton Toronto Airport Hotel & Suites
5875 Airport Road
Conference Room: TBD
Canada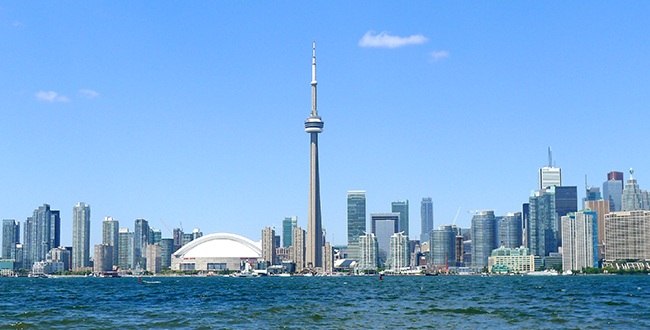 Hotel Location:
Hilton Toronto Airport Hotel & Suites
5875 Airport Road
Canada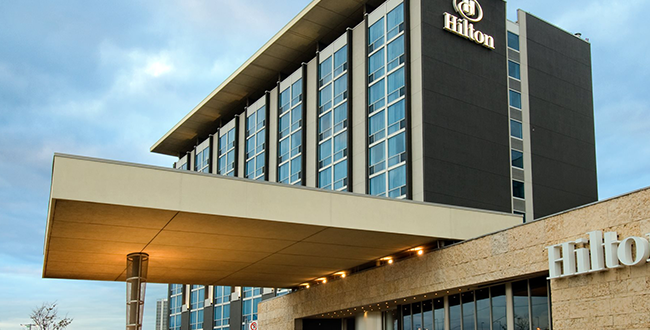 TARA D. SCOTT, MD, FACOG, FAAFM, ABOIM, NCMP
Facilitator, LP3 Network; Consultant, MEDISCA; Fellow of American College of OB/GYN; Advanced Fellow and certified in Anti-aging, Regenerative, and Functional Medicine; Board Certified, American Board of Integrative Medicine, Certified Menopause Practitioner, North American Menopause Society; Clinical Associate Professor of OB/GYN, Northeast Ohio Medical University; Chief Medical Officer, Revitalize Medical Group; Medical Director of Integrative Medicine, Summa Health Systems 

Disclosure: Consultant, Metagenics; Consultant, MEDISCA; Consultant, Valeant Pharmacy
Dr. Tara Scott graduated from Northeast Ohio University College of Medicine and completed her residency with Summa Health Systems at Akron City Hospital in Ohio. She recently retired from OB/GYN after almost 20 years to focus on functional and integrative medicine. She is a Clinical Associate Professor at Northeast Ohio Medical University, where she teaches residents and is involved in clinical research.
Dr. Scott is a certified menopause practitioner with the North American Menopause Society and a fellow of the American College of Obstetrics and Gynecology. She first became involved with hormone and integrative medicine while practicing as an OB/GYN. Her empathy for patients experiencing hormone-related issues led her to become trained as an advanced fellow and certified by the American Academy of Anti-Aging Medicine. The evidence-based practices she employed helped many patients conquer chronic wellness issues.  She then started Revitalize Medical Group, where she serves as the Chief Medical Officer. In 2016, she obtained an additional board certification in Integrative Medicine. Recently, Dr. Scott was appointed as Medical Director for Summa Health in Akron, Ohio, where she will develop and run an Integrative Medicine program. Dr. Scott is passionate about educating the medical community on the advances in evidence-based hormone therapy. She lectures around the community to raise awareness about wellness and hormone balance.
KEN SPEIDEL, BS Pharm, PharmD, RPh, FIACP, FACA
Facilitator, LP3 Network; Consultant, MEDISCA; Vice President, Compounding Compliance, Gates Healthcare Associates; Surveyor and Accreditation Expert, Accreditation Commission for Health Care (ACHC/PCAB); Fellow, International Academy of Compounding Pharmacists (IACP); Fellow, American College of Apothecaries (ACA); Professor of Pharmacy Practice (retired), University of Findlay

Disclosure: Surveyor, Accreditation Commission for Health Care (ACHC/PCAB); Consultant, Gates Healthcare Associates; Consultant, MEDISCA Inc.
Dr. Ken Speidel is recognized for his broad experience in pharmacy practice and education, including his national recognition as a pharmacotherapeutic specialist in endocrinology and pain management.  In addition, Dr. Speidel provides expert training in sterile and non-sterile compounding processes in the acute care, community, outpatient, and 503A/503B practice sectors.  He has been instrumental in the development of national standards for pharmacy compounding practices and provides consulting services to many organizations, including boards of pharmacy as well as hospitals and health systems in the United States and abroad.
In addition to his worldwide consulting and educational work, Dr. Speidel is a retired Professor of Pharmacy Practice from the University of Findlay. He has also assisted in the development and facilitation of many nationally recognized educational programs, approved by the Accreditation Council for Pharmacy Education (ACPE). Moreover, Dr. Speidel was an advisor for the development of the Pharmacy Compounding Accreditation Board (PCAB) and remains a surveyor and accreditation expert for PCAB/ACHC (Accreditation Commission for Health Care). Dr. Speidel has served as multi-term president of the National Home Infusion Association (NHIA) as well as president of the Hospice of Portage, a large hospice program in the United States.
Dr. Speidel received a Bachelor of Science and Doctor of Pharmacy from Ohio Northern University and has completed postdoctoral training in nutritional support and functional medicine. He has been awarded Fellowship status with the International Academy of Compounding Pharmacists (IACP) as well as the American College of Apothecaries (ACA).
---
Editors
SHANNON BELLEVUE, BSc, MSc
Medical Writer
Disclosure: None
DAPHNEE LALONDE, BSc, MSc
Continuing Education Supervisor
Disclosure: Consultant, MEDISCA
This activity is eligible for ACPE credits; please see the final activity announcement for further details

CURRENT PROMOTIONS
20% Off
| | |
| --- | --- |
| | Use coupon code 20LP317 upon checkout to receive 20% off this educational training.  |
Invite a Physician or Naturopathic Doctor
We believe that a collaborative relationship between physicians/naturopathic doctors and pharmacists is fundamental to providing patients with the personalized care needed to address their unique health needs. Contact us now to receive a free registration to invite a physician or naturopathic doctor1.

Use our invitation letter template to personally invite the physician/naturopathic doctor of your choice.

1Physician/naturopathic doctor and pharmacist training to be taken concurrently. Limit of one physician/naturopathic doctor per registrant.

 

---
CANCELLATION AND REFUND POLICY:

A written request must be sent to LP3 Network requesting "Cancellation without Transfer" to an alternate live activity date. If cancellation occurs at greater than or equal to 31 days from the live activity date, then the registrant will receive a 75% refund; 15-30 days a 50% refund; and less than or equal to 14 days no refund.
---
TRANSFER POLICY:
The transfer policy is only in effect if requested greater than or equal to 14 days prior to the original live activity date. Failure to submit the "Transfer Request" at least 14 days prior to the original live activity date will default to the "Cancellation and Refund Policy". The transfer policy can only be applied one (1) time. Transfer to a new live activity date must be within the current calendar year. Failure to attend the new live activity will result in no refund and will no longer be transferable. Confirmation of the new activity date is subject to approval by LP3 Network based on the number of available seats within the selected live activity. There are no refunds, returns, or transfers upon purchase of the home study.
---