Aventura, FL – June 22, 2019
Description
With personalized medicine on the exponential rise, the compounding industry is experiencing significant growth and demand due to its unique ability to customize pharmaceutical preparations meeting patient-specific needs. Along with this growing demand, the successful compounding pharmacist is challenged by a number of operational and clinical parameters of practice.
Some operational challenges manifest themselves as an increase in volume of prescriptions containing the same active pharmaceutical ingredients (APIs) of the same or variable strength. Even the experienced compounding pharmacist may find themselves unable to manage this increased workload. This program employs strategies that address this operational challenge. From a clinical perspective, contemporary compounding oftentimes involves the use of larger and/or lipophilic molecules. The bioavailability of these molecules may present a challenge, as they are not easily absorbed. To compensate, specialized delivery systems can be employed. The abovementioned challenges require a practical skillset and tactical approach that meets prescriber and patient needs and improves practice efficiency and efficacy.
Expanding on the foundational knowledge taught in LP3 Network's course, "The Science of Pharmaceutical Compounding – Non-Sterile Training" this program delves further into the complexities of managing a more robust non-sterile compounding practice.  In this training, participants will learn how to practically implement a new set of skills and strategies, and then apply them to process development (PD) requirements, stock formulation records (SFRs), master formulation records (MFRs), and compounding records (CRs). With this practical start-to-finish approach, experienced compounders will develop and use a new set of tools needed to make their compounding practice more financially profitable, more time and task efficient during day-to-day operations, and ultimately more reputable in their respective customized therapeutic areas of practice. In order to achieve this goal, the program is divided into a seminar and laboratory component.
SEMINAR COMPONENT
This is a 4-hour interactive seminar which features robust clinical due diligence practices, practical methods to optimize performance, advanced developmental and preparatory techniques, and new technology featuring automated calculations. These advanced tools and skills are applicable to powder blends; liquid-, semisolid-, and solid- filled capsules; semisolids delivered in actuated doses; and solid molded dosage forms.
Featured practical tools include:
Preparatory methods, use, application, and automation for:

Stock powder blend aliquots
Stock powder-in-liquid aliquots and concentrates
Stock powder-in-semisolid aliquots and concentrates

Specialized and refined preparatory procedures to save time and money
Standard operating procedures (SOPs) for newly learned procedures
Methods to easily populate a large number of MFRs
Optimizing lipid-based delivery systems and self emulsifying drug delivery systems (SEDDS) for oral capsules
Selecting synergistic permeation enhancing agent combinations for improved percutaneous absorption of APIs in transdermal dosage forms
LABORATORY COMPONENT
This is a 4-hour hands-on laboratory training where participants will learn how to incorporate stock powder-blend aliquots, and stock powder-in-liquid aliquots and concentrates using novel preparatory techniques, innovative technology, and having made use of automated calculations. Participants will experience labeling requirements for stock aliquots and concentrates. These aliquots and concentrates will be used to compound four dosage forms:
Estradiol* 0.00025 g, Estriol* 0.001 g, Progesterone* 0.030 g Topical Cream prepared from a stock powder-in-liquid aliquot and a stock powder-in-liquid concentrate
Naltrexone hydrochloride 0.0001 g, Methylcobalamin 0.001 g Oral Troche prepared from a stock powder blend aliquot
Piroxicam 0.005 g / 0.48 mL Oral Liquid-Filled Capsule containing a self emulsifying drug delivery system
Ketoprofen 0.0075 g / 0.15 mL Transdermal Cream prepared in a synergistic permeation enhancing agent delivery system, calibrated to an actuated volume, and contained in an actuated dose dispensing device
Participants will document key components of easy-to-use SFRs, MFRs, and CRs. Quantitative analyses of stocks and finished preparations will be conducted using automated calculations. Opportunities to perform quantitative and qualitative assessments, particularly for SFRs, will be revealed. Participants will adhere to specialized SOPs related to cutting-edge techniques and technologies.
Note: Formulas are subject to change.
* Drugs that are found on the National Institute for Occupational Safety and Health (NIOSH) list of Antineoplastic and Other Hazardous Drugs in Healthcare Settings will be replaced by non-hazardous drugs. Proper hazardous drug handling techniques and the correct use of personal protective equipment will be covered.
Learning Objectives
FOR PHARMACISTS & PHARMACY TECHNICIANS
Seminar
Develop strategies to optimize personnel performance and safety, preparatory techniques and strategies, and time management.
Employ strategies resulting in financial savings.
Demonstrate a clinical due diligence process that improves patient outcomes.
Investigate the features and benefits of working with stock powder-blend aliquots and powder-in-liquid aliquots for patient cohorts when preparing personalized medicine.
Apply skills that build connections between process development, stock formulations, master formulations, and compounding records.
Examine the scientific underpinnings of advanced oral and percutaneous drug delivery systems.
Investigate the features and benefits of on-line pharmaceutical calculations to improve accuracy and precision, while minimizing medication errors.
Demonstrate mathematical competencies in advanced pharmaceutical calculations.
Employ novel techniques and technologies that improve the quality, accuracy, and safety of compounded non-sterile preparations.
Employ uniquely designed SOPs to complement an advanced compounding practice.
Demonstrate best practices by using internal and external testing on stocks and finished preparations to demonstrate compliance with, or exceed, compendia standards.
Evaluate the advantages of a more robust patient monitoring and outcome measures recording system leading to further practice growth and development.
Laboratory
Analyze and interpret drug monographs, certificates of analysis (CoA), and safety data sheets (SDS).
Apply good documentation practices for common SOPs; includes garbing, cleaning and disinfection, and balance calibration.
Practice completing key components of SFRs, MFRs, and CRs, including stock labels, ingredient tables, technology specifications, beyond-use dates, storage and packaging conditions, and much more.
Prepare formulations from stocks powder-blend aliquots and stock powder-in-liquid aliquots for patient cohorts.
Prepare formulations from stock concentrates for patient cohorts.
Prepare liquid-filled self-emulsifying drug delivery system capsules.
Prepare an advanced transdermal drug delivery system contained in an actuated dose-dispensing device.
Employ advanced technologies for powder blending, powder-in-liquid mixing, and liquid capsule filling and sealing.
Evaluate stocks and compounded non-sterile preparations through qualitative and quantitative verification protocols; includes the use of on-line pharmaceutical calculations.
Demonstrate the importance of selecting dispensing devices that will maintain formulation integrity, while facilitating proper dosing and ease of administration.
---
FINANCIAL SUPPORT:
This learning activity has received financial support from MEDISCA Inc. in the form of an educational grant.
---
COPYRIGHT:

The live activity workbook is copyright © 2016 LP3 Network.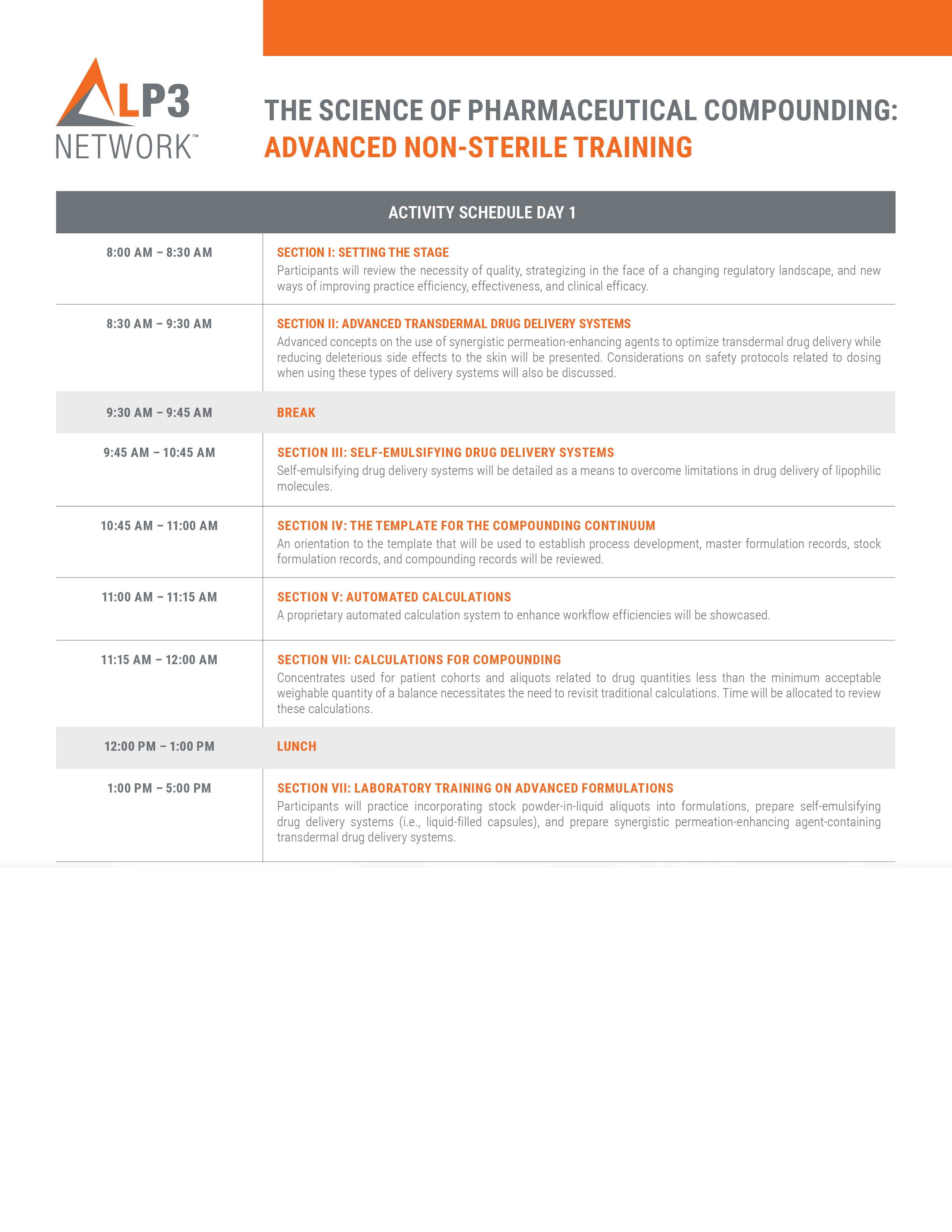 LP3 Network Facility
21550 Biscayne Blvd
Suite 300
United States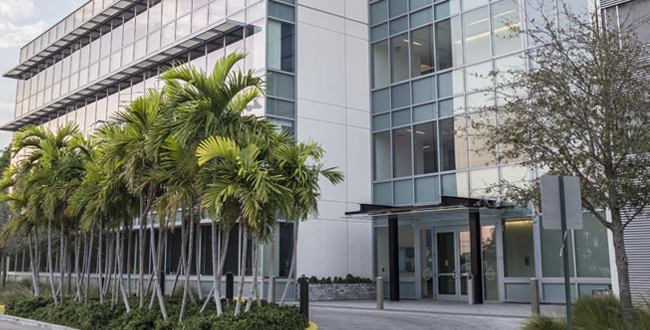 Hotel information:
The preferred hotel accommodation is the Hampton Inn Hallandale Beach Aventura. 
Please mention LP3 Network when booking to get our special group rate† of $99/night for a King room or $109/night for a double room (please check your registration email for the corporate rate code).
†Payment for hotel accommodations is at the expense of the activity participant. Rates are based on standard room accommodations and subject to availability and tax, currently at 12%.  Should the preferred rate not be available, the best available house rate will prevail.
For reservations, please call 1-888-871-3430 or to book online, click here. 
Hotel Location:
Hampton Inn Hallandale Beach Aventura
1000 South Federal Highway
Hallandale Beach
,
FL
33009
United States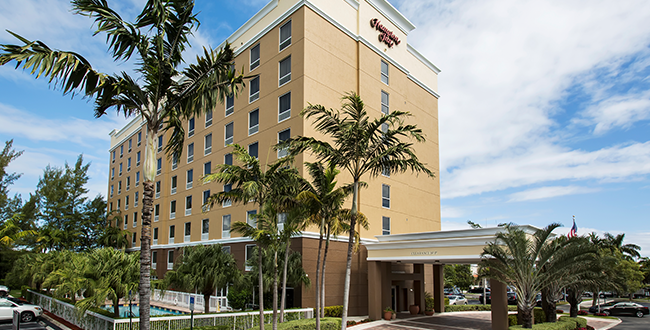 MARK FILOSI, BS Pharm, RPh


Compounding Pharmacist and Co-Founder, Family Care Pharmacy




Disclosure: Accreditation Commission for Health Care Surveyor; MEDISCA Consultant
Mr. Filosi is a compounding pharmacist for a thriving non-sterile and sterile practice with over 20 years of experience. He is also a surveyor for the Pharmacy Compounding Accreditation Board (PCAB), a service of the Accreditation Commission for Health Care (ACHC). Additionally, Mr. Filosi is the owner of Family Care Pharmacy in Plant City, Florida, where he is responsible for the sales and marketing of the compounding segment of his business. His compounding practice ranges from non-sterile hormone preparations to high-risk intrathecal preparations.
He graduated cum laude from Fitchburg State College in Fitchburg, Massachusetts, and then went on to graduate cum laude in Pharmacy from Massachusetts College of Pharmacy in Boston, Massachusetts. Today, Mr. Filosi is a preceptor for Florida A & M University, University of Florida and Massachusetts College of Pharmacy.
---
Editors
NEIL COHEN, BSc


CE Program Developer




Disclosure: None
---
Contributor
MARK FILOSI, BS Pharm, RPh


Compounding Pharmacist and Co-Founder, Family Care Pharmacy




Disclosure: Accreditation Commission for Health Care, Surveyor; MEDISCA, Consultant
CANCELLATION AND REFUND POLICY:

In the event that LP3 Network cancels a course, LP3 Network's sole liability shall be course repayment. In no event shall LP3 Network be responsible for any costs related to travel and/or accommodation. A written request must be sent to LP3 Network Inc. requesting 'Cancellation without Transfer' to an alternate live activity event date. If cancellation occurs at greater than or equal to 31 days from live activity event date, then registrant will receive a 75% refund; 15-30 days a 50% refund; and less than or equal to 14 days no refund. There are no refunds, returns, or transfer requests upon purchase of a home study, digital work book, webinar, and eLearning modules. LP3 NETWORK INC. shall be excused from any delay caused by reason of any occurrence or contingency beyond its reasonable control (a "Force Majeure"), including but not limited to, acts of God, hurricane, earthquake, labour disputes, strikes, riots, war, and governmental requirements. The obligation to pay money to LP3 NETWORK INC. in a timely manner is absolute and shall not be subject to this Force Majeure provision. In such event, LP3 NETWORK INC. will not issue any refunds, only transfer to an alternate live activity event date.
---
TRANSFER POLICY:
The transfer policy is only in effect if requested greater than or equal to 14 days prior to the original live activity date. Failure to submit the "Transfer Request" at least 14 days prior to the original live activity date will default to the "Cancellation and Refund Policy". The transfer policy can only be applied one (1) time. Transfer to a new live activity date must be within the current calendar year. Failure to attend the new live activity will result in no refund and will no longer be transferable. Confirmation of the new activity date is subject to approval by LP3 Network based on the number of available seats within the selected live activity. There are no refunds, returns, or transfers upon purchase of the home study.
---