Virtual Seminar – November 2, 2023 | Achieving Compliance With Non-sterile Compounding Standards of Practice in Canada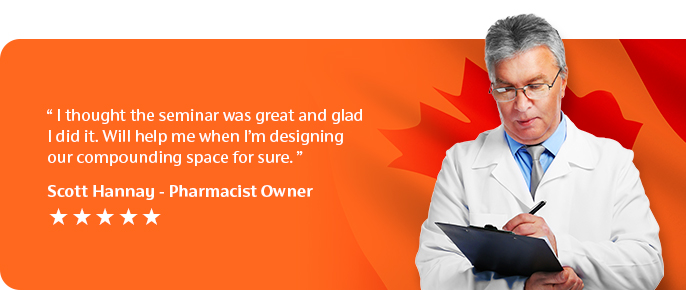 Disclaimer: The information and content provided, both written and verbal, have not been reviewed, approved or endorsed by NAPRA or any of the jurisdictional regulatory bodies in Canada.
Please note that the live stream will take place according to Eastern Standard Time (EST).
Day 1 - 9:00am to 6:00pm EST
Course Format
Blended learning activity that includes a live virtual seminar (8 hours) where you can connect online, in real time with peers from across the country and interact using open mic, Q&A sessions, group discussions, polls, and online chats; a comprehensive manual that you can review at your leisure; and a learner assessment to reinforce key concepts and ensure competency.
Course Description
In recent years, Canada's National Association of Pharmacy Regulatory Authorities (NAPRA)* published Model Standards for Pharmacy Compounding of Non-sterile Preparations and the companion Guidance Document for Pharmacy Compounding of Non-sterile Preparations. This program takes these standards and provides practical and applicable solutions to achieve compliance and best practices in an efficient and effective manner:
Establish time management goals to implement the standards of practice
Develop quality assurance and verification programs
Perform drug and preparatory procedure risk assessments
Relate practice risk assessment to facility design, personal protective equipment, and personnel training requirements
Learn how to detail master formulation records and compounding records
Document standard operating procedures
Address competency and compliance requirements     
The overarching goal of this program is to guide participants through a smooth transition to a new standard of practice, while continuing to manage and oversee current compounding operations.
---
Intended audience
Pharmacists, pharmacy technicians, and pharmacy managers practicing non-sterile compounding in Canada. Ideal for providers in need of practical tools and solutions on how to implement and be compliant with NAPRA's 2018 Model Standards for Pharmacy Compounding of Non-sterile Preparations.
---
Learning Objectives
Pharmacists & Pharmacy Technicians
Learning objectives for this program will be based on a combination of three types of objectives as outlined by the Canadian Council on Continuing Education in Pharmacy:
Knowledge Measurement Objectives
Identify elements of the current regulatory framework for compounding in Canada as it applies to Federal, Provincial/Territorial jurisdictional law, and standards of practice.
Describe quality assurance, risk management, and verification program requirements outlined in the Guidance Document for Pharmacy Compounding of Non-sterile Preparations.
Identify policy and procedure requirements that reflect the current model standards.
Detail current requirements of master formulation and compounding records.
Discuss approaches to ensure personnel safety, and the quality and safety of non-sterile preparations.
Reflective Assessment Objectives (integration of concepts and ideas)
Apply and adapt standards of practice to best suit your compounding practice.
Demonstrate the application and integration of a learned policy and procedure infrastructure into your practice.
Differentiate competency assessments from compliance indicators.
Integrate a best-practice approach commensurate with the size, complexity, and risks associated specifically to your compounding practice.
Authentic Assessment Objectives (compounding practice performance-based)
Develop a strategic action plan to manage the implementation of the standards of practice.
Hardware/software requirements
We will be using Zoom for this Virtual Seminar. We recommend joining from a desktop or laptop computer - full system requirements can be found here. You can download the Zoom client here.
If you will be joining from a tablet or mobile device, check out the system requirements here. More information: Getting started on Android and iOS.
Web browser

Windows: Internet Explorer 11+, Edge 12+, Firefox 27+, Chrome 30+
macOS: Safari 7+, Firefox 27+, Chrome 30+
Linux: Firefox 27+, Chrome 30+

Internet connection

~600kbps (down) for high-quality video
~1.2-1.8Mbps (down) for 720p HD video 
~2-3Mbps (down) for 1080p HD video

Misc

Speakers/Microphone – built-in, USB plug-in, or wireless Bluetooth

Hardware

 
Minimum
Recommended
Processor
Single-core 1Ghz or higher
Dual-core 2Ghz or higher (Intel i3/i5/i7 or AMD equivalent)
RAM
N/A
4 GB
---
Testimonial
"I recently attended the LP3 Network's NAPRA Non-sterile Seminar and I am definitely glad I did. As I am sure most pharmacy members that have read the standards would agree with, the new standards and guidance document were extremely confusing and hard to interpret. The seminar cleared up all the questions I had and presented ways to make the interpretations much simpler. The seminar itself was organized and well timed, with helpful workbooks and planners that would not only be useful during the seminar but is definitely coming in handy throughout the process of implementation. Despite the amount and depth of material that was covered, the event overall was engaging and even fun! I look forward to attending more events in the future with LP3 Network and am particularly interested in events on specialized areas of compounding, such as pain management and HRT. I definitely consider these seminars to be an investment as the knowledge and practical skills that can be gained from them can help further develop the compounding business in the long run."
Beatrice De Vera
---
FINANCIAL SUPPORT
This learning activity has received financial support from MEDISCA Inc. in the form of an educational grant.
---
COPYRIGHT
This CE Activity is Copyright © 2018-2023 LP3 Network.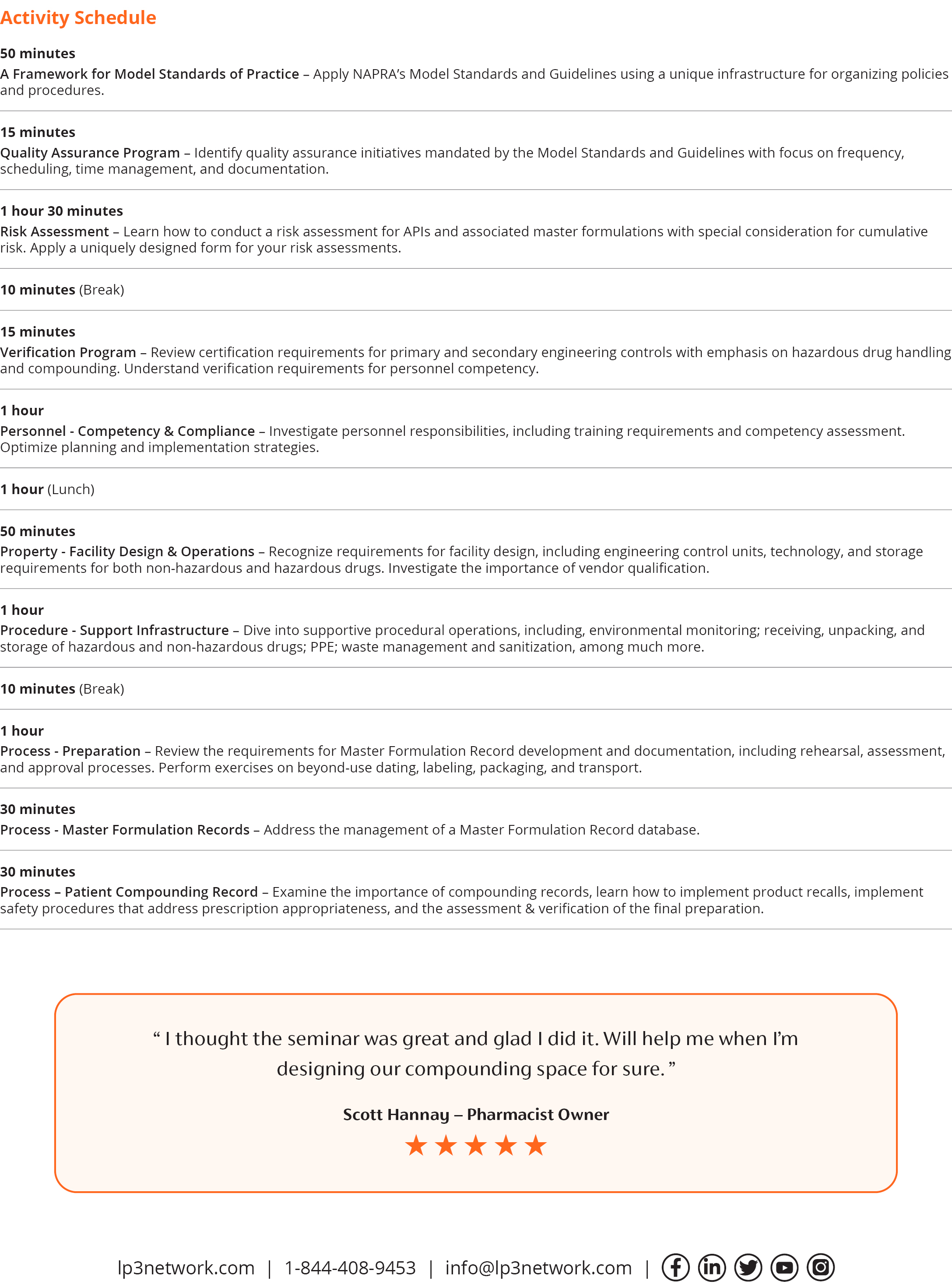 Bill Perks, BS PHARM, RPEBC, ACPR, MBA, RPH

Pharmacist, Consultant
Disclosure: None
Bill graduated from the University of Toronto (Pharmacy) in 1993 and completed his Hospital Pharmacy Residency in 1994. Bill then started his clinical pharmacy practice in Intensive Care and developed one of the first full service operating room pharmacy satellites at a major teaching hospital in Toronto Canada. This clinical experience, from over a decade in multiple disease domains, ensures that the formulations that he consults on benefit the patient in an effective and safe way for the many conditions that are not met by marketed pharmaceutical products.
Bill has spent the last 15 years managing large-scale businesses in sterile and non-sterile compounding practices, in both the private homecare/specialty area and the hospital practice, in all areas of compounding such as hazardous medications, high/medium/low risk sterile compounding and non-sterile compounding. Currently, Bill oversees a large clinical trial compounding division and the compounding for sterile and non-sterile compounds and special items, such as desensitization protocols, allergy protocols, ophthalmic preparations, high-risk injections and others.
Bill has been active in sharing his experience in drug stability, publishing 14 papers and presenting 34 scientific papers/abstracts mainly in this domain, and is able to assist compounders with stability, sterility and other quality evaluations of their formulations pre- and post-preparation.
Bill went back to business school, completing his MBA in 2017. He can assist with ensuring pharmacy practices and compounding facility designs are compliant and efficient from a regulatory, operations and financial point of view.
On his personal time, Bill likes to boat, camp with his family, and enjoys watching his son and daughter play competitive hockey and baseball.
---
Editor
NEIL COHEN, BSc
CE Program Developer
Disclosure: None
Pharmacists & Pharmacy Technicians
| | |
| --- | --- |
| | The Canadian Council on Continuing Education in Pharmacy has accredited this program for 8.00 CEUs. |
| | |
| --- | --- |
| ACTIVITY TYPE | REGULAR |
| CCCEP NUMBER | 1463-2023-3570-B-Z |
| CREDITS | 8.00 CEUs |
| DATE ACCREDITED | March 29, 2023 |
| EXPIRATION DATE | March 29, 2024 |
COMPLETION REQUIREMENTS
Complete a home study.
Participate in a live stream event.
Complete an online learning assessment within a two week period following the completion of the live stream event.

Minimum 70% passing grade required; retakes permitted.

Complete an online program evaluation form.
Once the aforementioned steps have been completed and approved, registered participants will be able to download a statement of attendance from the Learning Management System.
Disclaimer
The information and content provided have not been reviewed, approved or endorsed by NAPRA or any of the jurisdictional regulatory bodies in Canada.
---
CANCELLATION AND REFUND POLICY
In the event that LP3 Network cancels a course, LP3 Network's sole liability shall be course repayment. In no event shall LP3 Network be responsible for any costs related to travel and/or accommodation. A written request must be sent to LP3 Network Inc. requesting 'Cancellation without Transfer' to an alternate live activity event date. If cancellation occurs at greater than or equal to 31 days from live activity event date, then registrant will receive a 75% refund; 15-30 days a 50% refund; and less than or equal to 14 days no refund. There are no refunds, returns, or transfer requests upon purchase of a home study, digital work book, webinar, and eLearning modules. LP3 NETWORK INC. shall be excused from any delay caused by reason of any occurrence or contingency beyond its reasonable control (a "Force Majeure"), including but not limited to, acts of God, hurricane, earthquake, labour disputes, strikes, riots, war, and governmental requirements. The obligation to pay money to LP3 NETWORK INC. in a timely manner is absolute and shall not be subject to this Force Majeure provision. In such event, LP3 NETWORK INC. will not issue any refunds, only transfer to an alternate live activity event date.
---
TRANSFER POLICY
The transfer policy is only in effect if requested greater than or equal to 14 days prior to the original live activity date. Failure to submit the "Transfer Request" at least 14 days prior to the original live activity date will default to the "Cancellation and Refund Policy". The transfer policy can only be applied one (1) time. Transfer to a new live activity date must be within the current calendar year. Failure to attend the new live activity will result in no refund and will no longer be transferable. Confirmation of the new activity date is subject to approval by LP3 Network based on the number of available seats within the selected live activity. There are no refunds, returns, or transfers upon purchase of the home study.
---