Sneak Peek | Labs Online: Non-sterile Compounding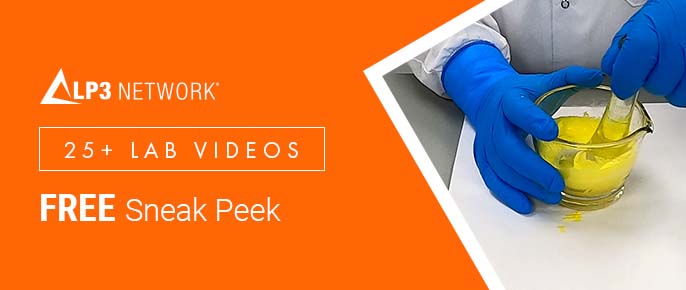 ABOUT LABS ONLINE PROGRAM
Pause. Rewind. Repeat. Labs Online is a convenient, self-paced, audiovisual experience you will want to get your hands on. Wherever you are across the globe – Pharmacist, Pharmacy Technician, Pharmacy Educator, Pharmacy Student – Labs Online offers an innovative, cost-effective, and convenient way to learn the step-by-step processes for non-sterile compounding. With over 25 videos (5 to 10 minutes each), Labs Online walks you through essential non-sterile compounding techniques, everything from donning PPE, to setting up your workstation, to mixing, to the use of various technologies, to quality control and much, much more. After mastering these essential skills, Labs Online provides the a-to-z in preparing 8 common non-sterile dosage forms – suppositories, troches, rapid dissolve tablets, capsules, creams, gels, PLOs, and oral liquids.
SEE FOR YOURSELF – SNEAK PEEK AVAILABLE NOW
Click on the "REGISTER / TAKE COURSE" tab, log in with your LP3 Network account and then hit "TAKE COURSE" to access a sneak peek sample video, titled "Techniques – Mixing Options for Semisolids". This video will give you a concrete idea of what you can expect with the labs online videos. Sit back, relax and absorb best practices in semisolid mixing options, including manual methods, bladed mixer methods, and planetary mixer methods.
Don't have an LP3 Network account? You can create one for FREE here.
---
Hardware/software requirements
Desktop Browsers

Google Chrome, Apple Safari, Mozilla Firefox, Internet Explorer 11, Microsoft Edge, and Opera
Mobile
Apple iPhones and iPads iOS 6+, Android phones and tablets 4.1+

Internet connection

Viewing videos at 360p requires 1.0 Megabit per second (Mbps)
Viewing videos at 480p (SD quality) requires 3.0 Mbps 
Viewing videos at 720p (HD quality) requires 5.0 Mbps

Hardware

Earbuds/headphones or built-in/external speakers
---