Achieving Best Practices: Sterile Compounding | Home Study - USA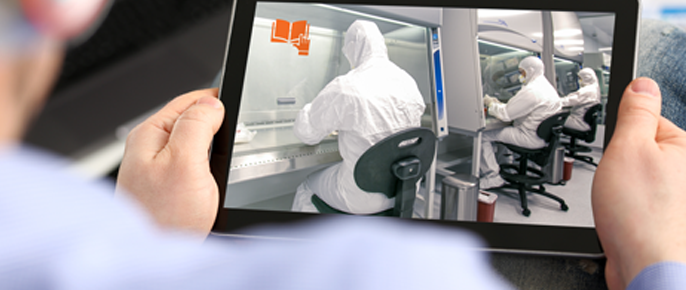 | | |
| --- | --- |
| This activity serves as a prerequisite to the live activity, Achieving Best Practices: Sterile Compounding. While attendance at the live event is not mandatory to receive home study CE credit, participation in the live event will afford the participant an opportunity to practically apply the activity's core concepts and to practice, under expert supervision, manual dexterity-related aseptic techniques and work with a broad range of technologies specific to sterile compounding. | |

Please note: If you are attending the live event, your home study can be accessed by navigating to the course page for your specific live event location & date. The version of the home study on this page is for those who are not attending a live event.
The following eight modules represents our foundational Activity series affording you everything you need to implement a sterile compounding practice or operation based on best practice principles for six different facility settings; Category 1 and 2 for non-hazardous and hazardous drug handling and compounding. The two Category 1 facilities would be situated in a segregated compounding area and room. The four Category 2 & 3 facilities would be in two-room or three-room cleanroom suites.
Intended audience
Pharmacists, Pharmacy Technicians, Pharmacy Managers, Designated persons in positions of responsibility, and Quality Assurance & Quality Control Officers
Auditors/Inspectors looking to hone their assessment skills in concert with the standards described and detailed in this program
---
Editor
NEIL COHEN, BSc


CE Program Developer




Disclosure: None
---

CONTRIBUTORS
 
MINDY CORMIER, Pharm D, RPh
Facilitator, LP3 Network
Pharmacist Consultant, Medisca Network Inc. 
Disclosure: None                                                                                             
                                                                                                                           
MARK FILOSI, BS Pharm, RPh
Facilitator, LP3 Network
Consultant, Medisca Network
Compounding Pharmacist and Co-Founder, Family Care Pharmacy
Surveyor, Accreditation Commission for Health Care (ACHC/PCAB)
Disclosure: Surveyor, Accreditation Commission for Health Care (ACHC/PCAB)
                                                                                             
CHRISTINE ROUSSEL, Pharm D, BCOP
Facilitator, LP3 Network
Consultant, Medisca Network
Assistant Director of Pharmacy, Doylestown Hospital
                                                   
MICHAEL SHAFOR, BSc, Pharm D
Facilitator, LP3 Network
IV Oncology, IV Home Health Specialist, and Clinical Pharmacy Manager, Oncology Plus Inc.
Disclosure: None
                                                                                                                
Financial Support
This learning activity has received financial support from MEDISCA Inc. in the form of an educational grant.
---
Copyright
The home study is copyright © 2006-2023 LP3 Network.
Pharmacists and Pharmacy Technicians
Total CPE Credits: 30 CPE Hours = 3.0 CEUs
| | |
| --- | --- |
|   | Home Study |
| Type | Knowledge-based |
| UAN | 0864-9999-23-001-H07-P/T |
| Credits | 30 CPE hours = 3.0 CEUs |
| Release Date | January 1, 2023 |
| Expiration Date | January 1, 2026 |
To receive CPE credits for the home study, participants must complete a learning assessment with a score of 70% and submit a completed evaluation.
| | |
| --- | --- |
| | CPE Consultants, LLC is accredited by the Accreditation Council for Pharmacy Education as a provider of continuing pharmacy education. |
CANCELLATION AND REFUND POLICY
There are no refunds, returns, or transfers upon purchase of the home study.