MEDISCA Australia | Labs Online: Non-Sterile Compounding Training
Pause. Rewind. Repeat. Labs Online is a convenient, self-paced, audiovisual experience you will want to get your hands on. Wherever you are across the globe – Pharmacist, Pharmacy Technician, Pharmacy Educator, Pharmacy Student – Labs Online offers an innovative, cost-effective, and convenient way to learn the step-by-step processes for non-sterile compounding. With over 25 videos (5 to 10 minutes each), Labs Online walks you through essential non-sterile compounding techniques, everything from donning PPE, to setting up your workstation, to mixing, to the use of various technologies, to quality control and much, much more. After mastering these essential skills, Labs Online provides the a-to-z in preparing 8 common non-sterile dosage forms – suppositories, troches, rapid dissolve tablets, capsules, creams, gels, PLOs, and oral liquids.
Brought to you by global leader in continuing healthcare education, Labs Online meets and exceeds standard of practice. Perfectly paired with hands-on training, labs online will bring your compounding skillset to new heights! What's even more – these videos are available to you for up to 1 year after purchase, serving as the perfect resource to continually refine your skills.
---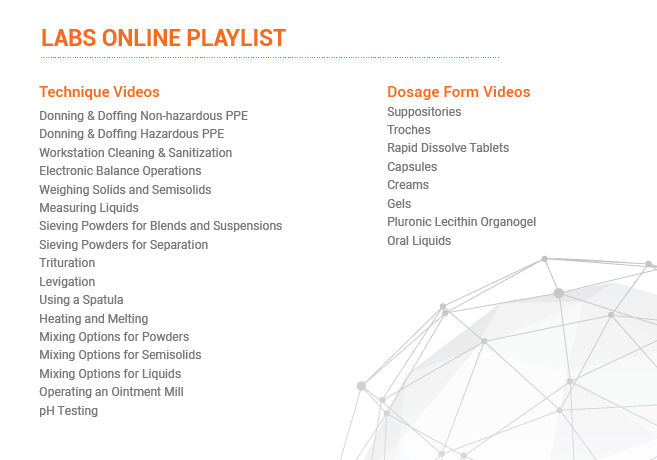 ---
Intended audience
Pharmacists
Pharmacy Technicians
Pharmacy Educators
Pharmacy Students
---
Learning Objectives
Translate audiovisual learning into demonstrated techniques in compounding
Relate a technique to its impact on qualitative and quantitative assessment outcomes
Select and assemble techniques into an appropriate order of operation for a dosage form
Prepare various solid, semisolid and liquid dosage forms
It has been demonstrated through scientific study that visual observation interspersed with practice, as compared to visual observation alone, results in a higher level of learning of motor skills and longer retention. We strongly encourage program participants with access to a compounding facility, to combine observational learning from the videos with hands-on practice sessions.1
---
Hardware/software requirements
Desktop Browsers

Google Chrome, Apple Safari, Mozilla Firefox, Internet Explorer 11, Microsoft Edge, and Opera
Mobile
Apple iPhones and iPads iOS 6+, Android phones and tablets 4.1+

Internet connection

Viewing videos at 360p requires 1.0 Megabit per second (Mbps)
Viewing videos at 480p (SD quality) requires 3.0 Mbps 
Viewing videos at 720p (HD quality) requires 5.0 Mbps

Hardware

Earbuds/headphones or built-in/external speakers
---
Financial Support
This learning activity has received financial support from MEDISCA Inc. in the form of an educational grant.
---
Copyright
This Training Activity is Copyright © 2021 LP3 Network.
---
1Larsson, BC, Ho, DK, Kraeutner, SN and Hodges, NJ (2021) Combining Observation and Physical Practice: Benefits of an Interleaved Schedule for Visuomotor Adaptation and Motor Memory Consolidation. Front. Hum. Neurosci. 15:614452. doi: 10.3389/fnhum.2021.614452
Labs Online Playlist
Welcome to Labs Online
Techniques – Introduction
Techniques – Donning and Doffing Personal Protective Equipment
Techniques – Donning and Doffing Hazardous Personal Protective Equipment
Techniques – Workstation Sanitization
Techniques – Electronic Balance Operations
Techniques – Weighing Solids and Semisolids
Techniques – Measuring Liquids
Techniques – Sieving Powders for Blends and Suspensions
Techniques – Sieving Powders for Separation
Techniques – Trituration
Techniques – Levigation
Techniques – Using a Spatula
Techniques – Heating and Melting
Techniques – Mixing Options for Powders
Techniques – Mixing Options for Semisolids
Techniques – Mixing Options for Liquids
Techniques – Operating an Ointment Mill
Techniques – pH Testing
Dosage Forms – Introduction
Dosage Forms – Suppositories
Dosage Forms – Troches
Dosage Forms – Rapid Dissolve Tablets
Dosage Forms – Capsules
Dosage Forms – Creams
Dosage Forms – Gels
Dosage Forms – Pluronic Lecithin Organogel
Dosage Forms – Oral Liquids
Learning Assessment Instructions & Closing Remarks
CONTRIBUTORS
MINDY CORMIER, PharmD, RPh
Advanced Clinical & Formulation Pharmacist, MEDISCA Network
Disclosure: None
Dr. Cormier is a pharmacist with over 20 years of diverse pharmacy field experience, which includes pharmacy operations/management and community pharmacy compounding of both non-sterile and sterile preparations. Currently, Dr. Cormier is an Advanced Clinical and Formulation Pharmacist at Medisca Network where she is responsible for approving customized non-sterile and sterile compounding formula requests and consults with pharmacists and prescribers across the globe. Additionally, she consults with LP3 Network in the development of various ACPE-accredited programs and supervises the maintenance and operation of LP3 Network's sterile and non-sterile courses at the University of South California. Dr. Cormier provides clinical research support and subject-matter expertise to various pharmaceutical companies and is well versed in United States and Canadian pharmacy regulations.
JENNIFER CLARE, BSc

CE Program Developer | Inventory & Laboratory Logistics, LP3 Network
Disclosure: None
NEIL COHEN, BSc
CE Program Developer, LP3 Network
Disclosure: None
Neil graduated with a Bachelor's degree from Concordia University in 1985, and has since worked alongside medical and allied health professionals in the fields of rehabilitation and workers' compensation medical services. Serving the compounding pharmacy community for the past 15 years, Neil is responsible for the development, design, and implementation of LP3 Network's training programs.

In his free time, Neil's special interests include photography and astronomy.
PHARMACISTS & PHARMACY TECHNICIANS
This training is non-accredited but a Certificate of Participation will be issued once the below requirements have been met.
Participants may be eligible for credits as self-directed learning, pending compliance with the Australian Pharmacy Council CPD Accreditation requirements. 

Completion Requirements
Complete the program by watching all the online playlist videos.
Complete the learning assessment with a minimum passing score of 75%. You may have a maximum of two (2) attempts to pass the learning assessment. Should you fail both attempts, you will not qualify for a Certificate of Participation.
Submit a completed program evaluation online.
Please make sure to complete the program within 1 year of purchase. If this is not possible, please contact us. 
When the aforementioned steps have been completed and approved:
Pharmacists and Pharmacy Technicians will receive an automated email from LP3 Network advising that they can download a Certificate of Participation.
---
ACCESS INSTRUCTIONS
From the course page, click the "TAKE COURSE" button.
Once inside the course, you can begin viewing the videos.
Please make sure to complete the program within 1 year of purchase. If this is not possible, please contact us. See the Accreditation tab for course completion requirements.
Access to the course and all course materials will expire one (1) year from the course enrollment date.
---
ACCEPTANCE OF FAIR USE
By purchasing this Training Activity, the Registrant(s) agree to use the online material according to generally accepted principles of fair use, failing which, LP3 Network shall, in its sole discretion, have the right to remove any Registrant from the Training Activity.
---
CANCELLATION & REFUND POLICY
There are no refunds, returns, or transfers upon purchase of this Training Activity.