Dallas, TX – January 26-27, 2019 (SEMINAR ONLY)
January 26, 2019

to

January 27, 2019
DESCRIPTION
Veterinary pharmacy is a well-established niche specialty that is high in demand and diverse in opportunity. Although once dominated by veterinarians, pharmacists now play an essential role in the treatment of animals. Contrary to typical pharmacy for human patients, veterinary pharmacy is uniquely challenged with treating a diverse range of species, on top of individual variations, concerns with patient non-compliance, and limited veterinary drug availability. Addressing these challenges and obstacles requires specialized knowledge in species-specific physiology, pathophysiology, pharmacology, and behavior; much of which exceeds what is taught in pharmacy school.
In this live activity, participants will gain a fundamental understanding of veterinary pharmacy and applicable skills in customized medications. 
---

Testimonials:

This 2-day course is a great program because it provides key points of pharmacy- and veterinary-specific compounding regulations, common disease states, calculations, formulations, things to watch out for that are different from human compounding, and compounding techniques. I would recommend this course to compounders who are new to vet compounding as well as compounders who have been in the field for a long time. This is by far the best veterinary compounding course that I have attended!

Jennifer O'Grady
Pharmacist, Nebraska

I have been involved in veterinary compounding for 20+ years. This course was very comprehensive and I picked up several new "tricks" that will be beneficial to my practice.

Mark Smith
Pharmacist, South Carolina

 
---
SEMINAR COMPONENT
A 12-hour seminar course where participants will learn about the challenges in veterinary pharmacy (i.e., species-specific pharmacokinetics, drug contraindications, patient compliance, treatment efficacy, and drug availability) and how to circumvent these obstacles through customized pharmacotherapy. From here, participants will interpret and appraise the regulations and recommendations surrounding veterinary compounding and explore compounding opportunities in the form of adjusting dosage strength, customizing dosage forms, and tailoring ingredient selection based on animal specificities and tolerances. Participants will review key compounding principles, including the benefits and risks of different routes of administration, the appropriate application of excipients, and the incorporation of flavoring agents. Opportunities for customization in regards to specific animal disease states (e.g., canine atopic dermatitis, equine corneal ulceration, feline hyperthyroidism, canine epilepsy, feline gastroparesis, etc.) will be discussed. Lastly, participants will be provided with expert marketing strategies needed to initiate or expand their compounding practice. Participants attending the seminar will be kept engaged by employing problem-solving skills in the form of interactive activities, group discussions, and case studies.
Learning Objectives
FOR PHARMACISTS
SEMINAR
Examine the challenges associated with veterinary pharmacy, including species-specific pharmacokinetics, patient compliance, drug availability, and drug contraindications.
Recognize the need for customized medication opportunities for the treatment of veterinary animals with emphasis placed on dogs, cats, and horses.
Evaluate the different ways compounding can achieve customization and address the difficulties associated with veterinary pharmacy.
Apply skills of reasoning and interpretation in appraising current regulatory standards, recommendations on compounding veterinary drugs, and drug information resources.
Investigate the benefits and challenges of various routes of administration and dosage forms.
Compare and contrast the advantages of various excipients, species-specific intolerances to certain excipients, and how to correctly use them in compounding.
Discuss customization opportunities for the pharmaco-treatment of various animal disease states, including canine dermatitis, feline herpes virus-1, equine corneal ulceration, canine epilepsy, feline hyperthyroidism, feline gastroparesis, and feline urine spraying among more.
Acquire marketing tips and skills needed to commence or expand your veterinary pharmacy practice.
FOR TECHNICIANS
SEMINAR
Recognize the drawbacks and limitations of veterinary-labeled products available on the market today.
Discuss the need for customized medications to address the challenges of veterinary pharmacy.
Apply skills of reasoning and interpretation in appraising current regulatory standards and recommendations for compounding veterinary drugs.
Identify the challenges of animal patient compliance and how to address these difficulties with alternate routes of administration, flavoring oral preparations, and applying appropriate dispensing devices.
Investigate the benefits and challenges of various routes of administration and dosage forms.
Compare and contrast the advantage of various excipients and how to correctly implement them in compounding.
Practice customizing formulations.
Discuss various veterinary disease states and learn about specific opportunities for customization and compounding.
---
FINANCIAL SUPPORT:
This learning activity has received financial support from MEDISCA Inc. in the form of an educational grant.
---
COPYRIGHT:

The live activity workbook is copyright © 2017 LP3 Network.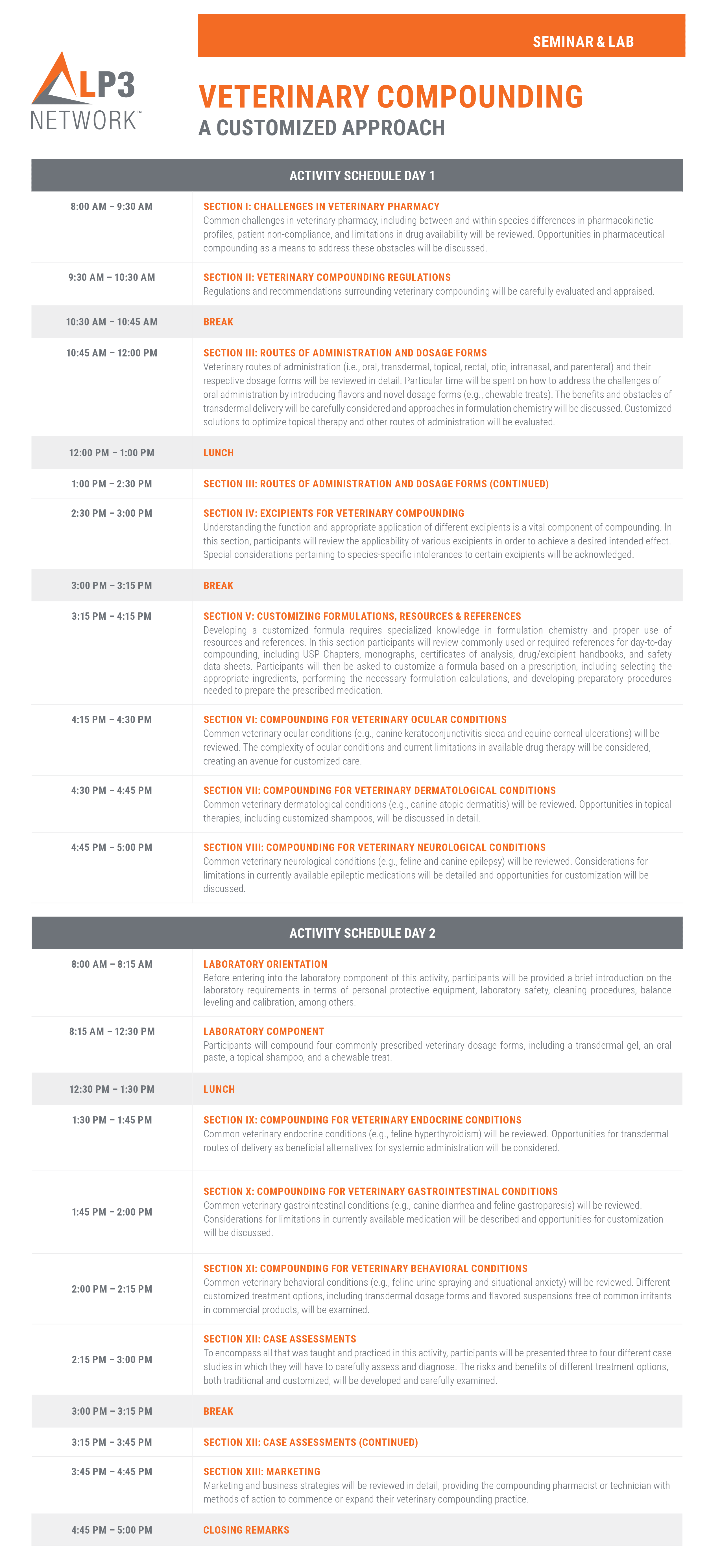 Travel information
Venue information:
Please join us in the J.F.K Conference room at 7:45am for Registration and Sign in!
Hilton Dallas Lincoln Centre
5410 LBJ Freeway
United States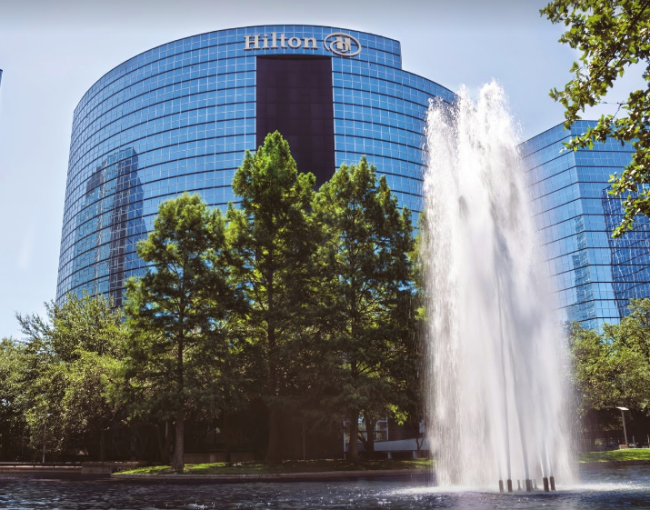 Hotel information:
The venue will be announced closer to the live date – please check back soon!
LAUREN EICHSTADT FORSYTHE, PharmD, FSVHP

Clinical Veterinary Pharmacist, University of California - Davis Veterinary Medical Teaching Hospital
Disclosure: Associate Editor of Plumb's Veterinary Drug Handbook
Dr. Forsythe is a veterinary pharmacist at the University of California – Davis Veterinary Medical Teaching Hospital.  Dr. Forsythe grew up in western Pennsylvania as the daughter of two veterinarians and completed her doctor of pharmacy degree at the University of Findlay, College of Pharmacy in May 2015.  Dr. Forsythe then went on to complete a residency in veterinary pharmacy at the Purdue Veterinary Teaching Hospital.  Upon completion of her residency, Dr. Forsythe started a position with the UC Davis Veterinary Medical Teaching Hospital.  Dr. Forsythe's research interests include behavioral therapy in cats and safety and efficacy of compounded products in veterinary patients.  Dr. Forsythe also enjoys teaching both pharmacists and veterinarians and is active in providing continuing education through a variety of avenues, as well as working with students of both professions.  Dr. Forsythe is also an associate editor of Plumb's Veterinary Drug Handbook.
VANESSA PINHEIRO, BS Pharm, MSc, RPh

Pharmacist, Technical Support Services Department, MEDISCA Network
Disclosure: None

 
Mrs. Pinheiro is a compounding pharmacist with over 15 years of experience. Mrs. Pinheiro was a professor at the College of Pharmacy at the University Suprema in Brazil and was previously the owner of RX Pharmaceutica and Petfarma Pharmacies in Brazil, for which she was responsible for compounding, quality control of raw-materials and final products, training pharmacists and technicians, and counseling patients. In addition to this, Mrs. Pinheiro was a Surveyor and Standards Committee member of Brazil's National Association of compounding pharmacy, a non-profit organization that oversees customized pharmaceutical preparations. She has specialty training in non-sterile compounding, pharmaceutical technology, cosmetology, and veterinary compounding. She is also the author of the veterinary formulary book, Formulário Veterinário Farmacêutico.
KRISTINA KRYGIER, BSc, MSc

Formulation Chemist, Technical Support Services Department, MEDISCA Network
Disclosure: None

 
Mrs. Krygier joined LP3 Network as a laboratory facilitator for continuing education programs specializing in non-sterile pharmaceutical compounding. She has a Master's degree from McGill University in Food Chemistry and is a Formulation Chemist at MEDISCA Network, where she provides compounding support to pharmacists and technicians.
---
Editors
SHANNON BELLEVUE, BSc, MSc
Medical Editor Team Lead
Disclosure: None

 
Pharmacists & Technicians
Total CPE Credits: 12 CPE Hours = 1.2 CEUs
Joint Providership Status (CPE Consultants, LLC / LP3 Network)
| | |
| --- | --- |
|   | SEMINAR |
| TYPE | Application-based |
| UAN | 0864-9999-18-044-L07-P/T |
| CREDITS | 12 CPE Hours = 1.2 CEUs |
| RELEASE DATE | May 5, 2018 |
| EXPIRATION DATE | May 5, 2021 |
COMPLETION REQUIREMENTS
1. Attend the seminar in full and demonstrate satisfactory participation.
2. Submit a completed evaluation form of the seminar online.
3. When the aforementioned steps have been completed and approved:
Participants registered in the United States can obtain a statement of completed credits on their NABP e-Profile.
Participants registered in Canada and elsewhere will receive a statement of completion by email.
| | |
| --- | --- |
| | CPE Consultants, LLC is accredited by the Accreditation Council for Pharmacy Education as a provider of continuing pharmacy education. |
CANCELLATION AND REFUND POLICY:

A written request must be sent to LP3 Network requesting "Cancellation without Transfer" to an alternate live activity date. If cancellation occurs at greater than or equal to 31 days from the live activity date, then the registrant will receive a 75% refund; 15-30 days a 50% refund; and less than or equal to 14 days no refund.
---
TRANSFER POLICY:
The transfer policy is only in effect if requested greater than or equal to 14 days prior to the original live activity date. Failure to submit the "Transfer Request" at least 14 days prior to the original live activity date will default to the "Cancellation and Refund Policy". The transfer policy can only be applied one (1) time. Transfer to a new live activity date must be within the current calendar year. Failure to attend the new live activity will result in no refund and will no longer be transferable. Confirmation of the new activity date is subject to approval by LP3 Network based on the number of available seats within the selected live activity. There are no refunds, returns, or transfers upon purchase of the home study.
---